Selamat Pagi Bali!
After we climbed  Mount Ijen in the early morning, we drove towards the coast. Travel time on Java and Indonesia should not be underestimated, because you spend on average between three and five hours on the bus each way. By train and ferry you can treat yourself a little variety and gets to know a different point of view.
Bali is certainly known by everyone – well obviously since Julia Roberts's Eat Pray Love, which I find totally overrated. I've had the book for some time and read this before the film released (it is as much omitted or modified), and thus I may have had a different image of Bali. Fantastic white beaches, tropical rainforests and handsome men (this is true here too) should await me in my dreams. Lately Bali is only advertised as beach destination. Honeymooner and yogis will find there the perfect fulfillment.
The reality is unfortunately different: Backpacker, Party People, surfers and mass tourists on Bali's beaches. Where is my beautiful dream beach? Am I  again on Patong Beach?
Perhaps I've come to the wrong ideas to Bali and therefore am so disappointed.
The crossing to Bali was quite ok, although we sometimes thought that the ferry was not moving. From the ferry could make nice pictures of the volcanoes East Java and it was a conscious again that Indonesia is a volcanic country. 300 volcanoes are in Indonesia and about 130 active. We got first hand experience with the eruption of Mt. Rijani on Lombok, when he broke out on 4 November. The ash clouds hindered the activities of the airport in Denpasar, so it was closed until Friday Morning. Since we departed the following week, on Tuesday, November 11,  this should not be a problem. That's what we thought, until it was released that the airport was closed until Monday morning. We did not know until Tuesday morning, if we still get home. All employers have been notified and I was prepared  to spend a few more days in Bali . The hardest hit were the Australians, because Jet Star, Virigin and Qantas cancelled all flights to Australia.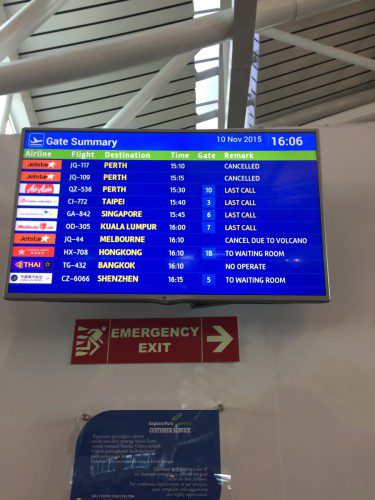 Taking the ferry to Bali
Java and Bali seems to be small on the map, but the distances are immense. Routes that are completed in Germany in only an hour or two, require almost double time. Reason: heavy traffic, no highways and no or very dangerous overtaking. Ever overtaken a truck with a coach?
Transfer by bus and train
On our trip we spent almost every day at least 3 to 4 hours in air-conditioned coach. A train ride from Yogya to Malang takes about 8 hours but was a welcome change and very pleasant as we used the Eksecutif class (comes with air conditioning and lounge chairs, the business class of Thai Airways is close to it). Yohanes gave us personalized tickets with passport number and seat reservations  and we  could buy some snacks at the lobby. I recommend  the Rotti'O, very delicious sweet rolls for 10,000 Rph. Unfortunately, they were only available on Java 🙁 The ride is quite pleasant, but you should know two things. 1. The toilets are Asian Style → With hole in the ground and during the journey, it is difficult to meet.  Please think here in terms of hygiene articles  2. There is only one track and you have to wait up to 30 minutes if it is currently occupied. On longer by train, I recommend a dose of patience, Read Eat. Pray. Love. and a dozen Rotti'O buns and enjoy the great scenery. Peace!
Once we arrived at Bali, we changed the time (lose one hour) and drove west to Lovina, in the north of the island, where we called the Aditya Beach Hotel a night. The hotel was ok for one night but nothing for my clients who travel more in the higher segment. Lovina Beach is a natural black beach, a bit narrow, but otherwise quite nice. Lovina is famous for its dolphins ,which we  visited the next morning. I'm not going to recommend the trip to the dolphins,  since it resembles a battue. About 50 boats gather and chase the poor dolphins. Please does not participate in this hunt! After about 15 minutes horror spectacle we turned around at our request and discover the beautiful side Lovina. Crystal clear dive sites. I was about to jump in front of it in the water, but a tight schedule kept me back. We went to breakfast on to Kintamani. There we ate at the Lakeview Hotel and Restaurant, enjoying the view of Mount Batur and Lake Batur.
Then we reached Candidasa on the east coast of Bali (transfer time was about 6 – 7 hours). We stayed at the dinky Ashyana Hotel, a great Bungalow Resort that caused his cordiality, great rooms with sea views for a pleasant mood. Only one point alone disturbs me: the rocky, nonexistent beach. Sea view is guaranteed in the first 4 bungalows and the view is nice, but for a pure beach holiday not suitable. Still  I recommend the Ashyana , because it's really charming and you can just relax for a day or two. In addition, you can buy very cheap things at the shops. Sarongs and Goa-pants there are plentiful and very cheap (to 70,000 rupiah should already haggle and always remember to smile and be friendly).
 Ashyana Candidasa
Small Bungalow with Garden and Sea Views in Candidasa
⇒ Recommended if you are not into beaches but relaxing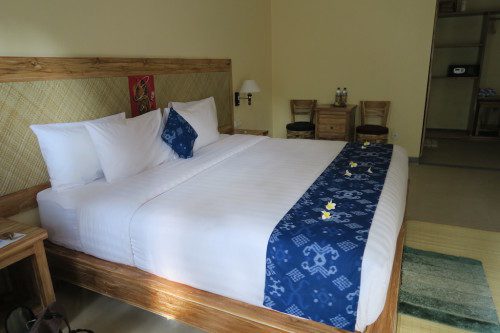 Cooking class at Le Zat Beach Restaurant
I love Indonesian cuisine, especially Bami Goreng and Nasi plus fried egg, and was excited about the cooking class.  We prepared today 6 dishes before i.a. Spring rolls and satay. Our chef was very patient and explained  us the steps. Previously, he was with us through the hotel grounds and showed us some herbs and plants. In the evening we sampled our delicious dishes and enjoyed a traditional Balinese dance.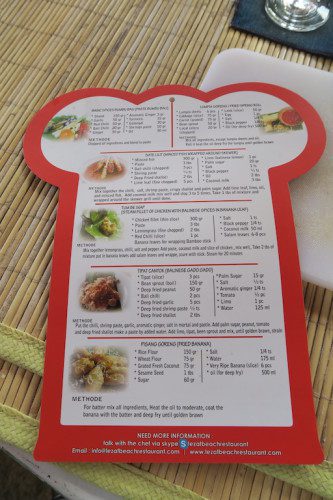 The next day I was surprised by a very sweet breakfast I had the night before already search. Is not that cute? The great staff, great rooms and the personal touches make the stay in Candidasa unforgettable.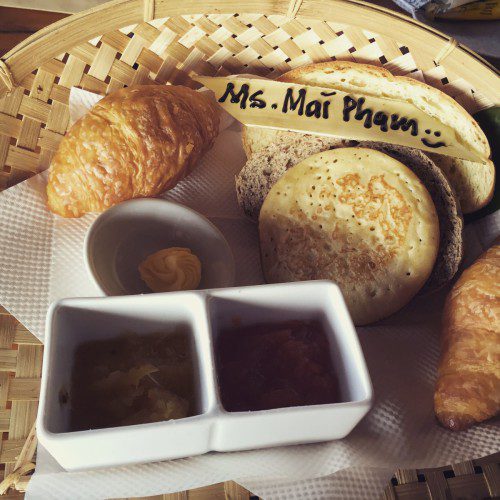 Today a visit to the water temple was on the agenda. What one imagines just under a Water Temple? The Palace of Triton and Ariel? Let's go underwater? The Water Palace Tirta Gangga means sacred water of the Ganges and is as it were the comparison piece to the Summer Palace of Beijing. The king spent his free time in the water palace and relaxed here.
Tirta Gangga
The Water Palace is very romantic and I would spend the next time certainly a half to a full day. Did you know that you can stay as well? The 5 rooms are not on the cheap side but definitely worth the money. For more information just send me a nice email.
Bali is well known for its beaches. The island is very large and therefore has several beaches. All beaches that I could examine during my 4-day stay, did not hit me off my feet. Maybe I'm just spoiled by Thailand, but when I hear "Honeymoon in Bali" I imagine just white, endless beaches with small bungalows  but not  hotels next to hotels, many tourists …
The most beautiful beach for honeymooners, couples and even families is possibly Sanur Beach. Here it should be noted as well in the rest of Bali that many hotels do not have direct beach access, but a road in between. Shuttle transfers are indeed offered a direct beach location not make up for it. Furthermore, you should know that all beaches in Bali are public.
Sanur Beach
Beautiful sandy beach, a cobbled path is well suited for strolling and cycling. The Gazebo Beach Hotels beach bar offers cheap meals and drinks. Try definitely the Nasi Goreng Special a la Gazebo. In Sanur I recommend to you, The Pavilions Sanur, a very nice luxury resort, but it is without the beach. The beach is about 5 minutes walk away.
Jimbaran Beach
Yes Jimbaran Beach has something. Especially the extent tourists in the evening, when the seafood buffet for dinner ruft.Der beach is wide, white and beautiful, but what times does not go now, are the many tourists and the restaurants. Since the Four Seasons is also at the Jimbaran Beach (at the quiet end), that is a good thing, but I disturb the many tourists on the beach. Well suited for going out, but to relax for me unfortunately a no go.
Terima Kasih Indonesia!
I have seen a lot of you and I begin to love you. The religious differences between Java and Bali are already extremely (Islam on Java and Hinduism in Bali) and I admit to identify myself more with Bali. Java is a very interesting island and shows the cultural aspects with its volcanoes, mosques and people, whereas Bali fascinated with its rice terraces, kind people and beautiful landscapes. Indonesia is definitely worth the long journey and is high on my list "Top Countries Asia". My thanks also go to the Ministry of Tourism and the DMC Happy Trails.