There a three places one should visit in Asia: Angkor Wat, Borobudur and Bagan. In October 2016 I accomplished this mission and it feels good to have visited all three buddhistic places. Cambodia was my first place to visit when I started traveling to Asia in 2014, followed a year later by Indonesia and now Bagan. Bagan is such a magical place and I wish I could have visited this place 10 years ago. It must have be more magical back in time.
When in Bagan you should book the Hot Air Balloon over Bagan because it is so unique. The prices have gone up lately (about 350 USD per person) but it is definitely worth the money. I have thought a lot of booking the balloon since I am also afraid of heights but I am glad that I decided to give it a chance. When in my life will I ever have the chance see Bagan from above? 
On my second day I woke up at 4.45 am and still tired waited for the pick up (Ok I admit I was sleeping while waiting). 10 Minutes after 5 am spotlights appeared and a red old timer coach stopped infront of the hotel. Wow! That is so retro. A thin Myanmar Guy jumped out of the bus and picked me up.
Mai Pham? Yes that is me!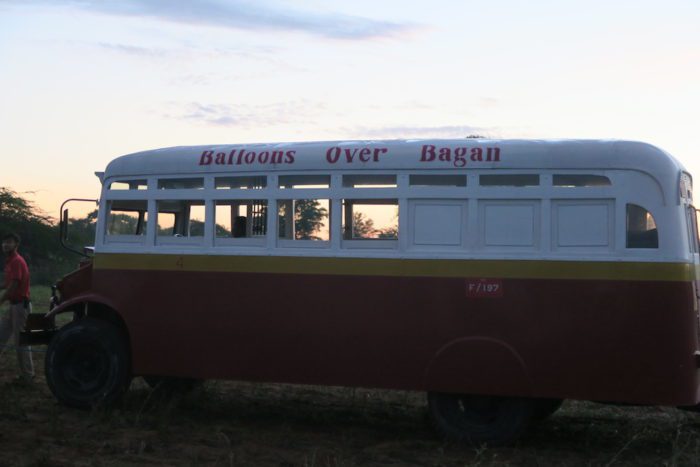 It was still dark and everybody in the van was excited. "Where are you from guys" –  two ladies asked. "Munich", "the States" and "London" everybody answered. "Is this your first hot air balloon flight ladies?" – "Yes!"
It was close to 5.30 am when I got to the balloons and the atmosphere was strange. It was dark, there were some shadows and nobody know what to expect, when a British Dude jumped into our bus and introduced himself. He was from the Islands and came to Bagan to fulfill his dream of piloting the Hot Air Ballons. Even if it means to move here for a season.
"There are only a few places we wish to work for and Bagan is definitely the place every pilot will go for" – the pilot said. "If Bagan calls I will follow!"
Coffee and Tea were served while we waited. The pilots divided us into two groups and Javier, our Madrid-based pilot, explained the starting and landing positions. It's pretty easy. There are 4 baskets fitting 4 person, max. 16 pax + pilot. The baskets are not big but still I could turn my positions. Once started we shall sit in the basket, holding the ropes infront of tightly and press our feet again the wall. Easy as I said.
The sun rises at about 6 am and by 5.45 am we still have not prepared the balloons. The wind was going in the wrong direction towards the river so it was not sure whether we can start at all. The tension was strong and everybody was nervous. "Will we go up today? Will we miss the sun rise? Oh I don't give a d on the sun rise I just want to go up. Now!" – my thoughts moments before Javier told us that the directions have change and we go up now. Quick! 
The sun was out already when the balloons were filled with hot air. It happened so quick that I did not know what to say and what to do. I was speechless for a while and this happens seldom.
There we go. Up Up Up! To the sky and beyond!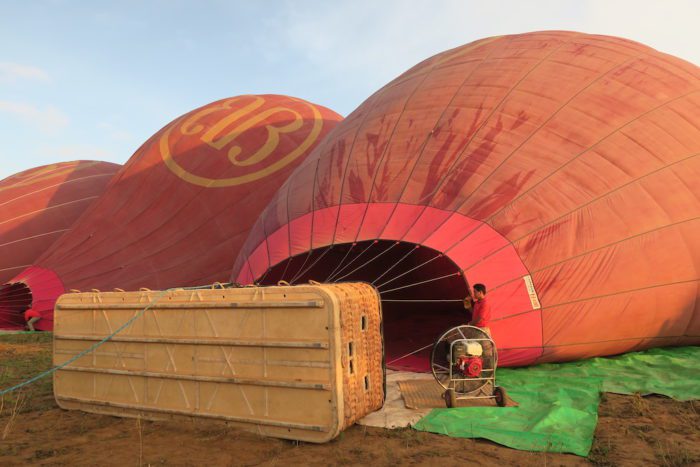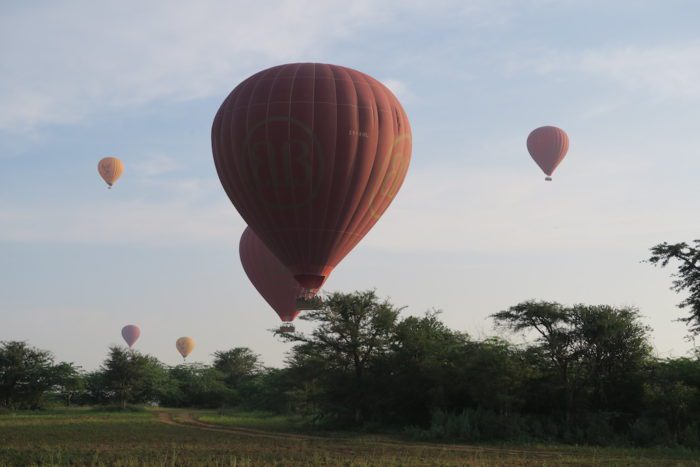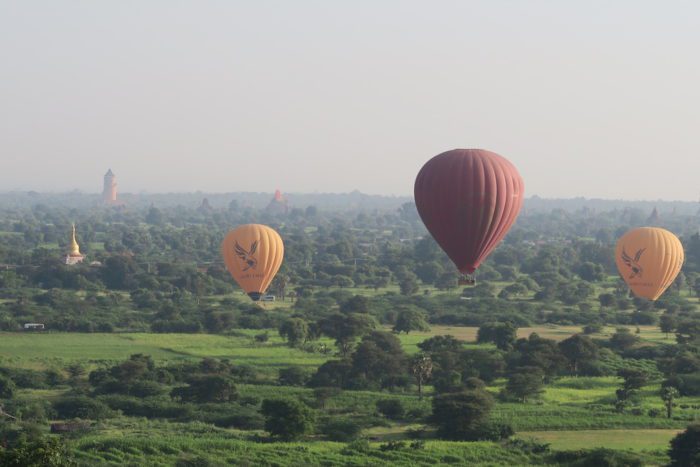 "Turn around and smile! We gonna take a memory picture with the Go Pro!" And we smile. We smile like there is no tomorrow. The elder Australians, the Indian couple and we, the two young Germans. It is a moment to remember.
45 Minutes nobody speaks and I treasure the silence. We were the last balloon to start and I am glad we did because I could took those amazing panorama pictures with the balloons infront of us. I wish we would never stop.
As chaotic the start was so was the landing. Javier communicated via Walkie Talkie and told his crew that we supposed to land behind the yellow balloon. Well, which balloon did he mean? There were two?
He managed to land in the fields save and we got stuck with a tree which was too close. Javiers crew appeared out of nowhere and about 30 strong Myanmar Guys came to help us. Within 5 minutes we jumped out of the basket and within 10 Minutes a light champagne breakfast was served and the balloon stored away. By 8.30 am I went for a quick breakfast at the restaurant before taking the e-bike to discover beautiful Bagan.