It has been over three years since I moved to Saigon and as time flies I still miss it. I miss the noise, the food and my great family. It is so quite here in Germany. Especially when it's minus 8° C outside and you are sick. Sometimes I wish I could turn back time and stay in Asia, where everything is different. Going back in time I really loved the time with the gang and I do miss our late night out. I miss drinking beer, eating lau and oc, teaching English and having an unique time with my friends. I love it when my cousin woke me up in the middle of the night so we can ride a scooter along Saigon River to Downtown, where I get my Smoothies and Fried Squid. Waking up at 7 am to make coffee for grandma and having breakfast with my aunt, cuddling with my uncles little dogs and what I miss the most now is the freedom. The freedom of jumping on my little scooter, driving to Saigon and just live. One thinks it might be easy here in Europe but it is not. Everyone is busy with working the 9 to 5 but forgets to really live. Do we really live to work or work to live? What is your goal in life?
For me it is to do what I love and have the freedom to do so.
Living in Asia is not simple. It requires a lot of courage to leave your comfort zone and traveling to unknown areas. For me it was a big adventure and I never ever regret doing it. I would do it over and over again and can only highlight that it was the best time of my life, changing me so much. Being far away from your parents, siblings and friends might be hard first but you will find new friends.
Working and living in Saigon was challenging at first because my Vietnamese was not very good. I never went to Vietnamese School and was never taught writing and reading. We spoke Vietnamese at home and my mom tried to teach writing and reading but I was lazy. That changed in summer 2005 when I met someone I really liked and he taught me how to read and write Vietnamese. I remember being online all night long chatting. Those precious moments will always be in my heart. Thank you for teaching me my mother tongue (cảm ơn anh đã dạy em tiếng việt).
So when I started the job in Saigon I was shy to speak Vietnamese. I was not confident enough to speak Vietnamese with my colleagues because I was afraid that they would not understand me because of my heavy German accent. It took a while to be more confident. My colleagues are all wonderful people understanding that I was shy but always encouraged me to practice more. Same with my family. I tried so hard because I wanted my grand parents being proud of me, the grand daughter from Germany.
Besides the language barrier there were cultural differences. I might have Vietnamese Roots but I grew up in Germany and I am half white washed. I do party all night long, be best friends with males and sometimes argue with elder. I know it is disrespectful but why should I keep shut when they are so impolite? Asking me why I am not married yet with two kids or why I have studied at all? Sorry I am not sorry for being me. I am not married yet because I do not want to be 20 years old with three kids and depending on a husband who gambles and have affairs. I have my own life, I travel and I am independent. One day I would really like to settle down with the right person.
I worked for one of the biggest destination management company in Southeast Asia, Indochina Travel Service, and I was responsible for customer relations. I learned to deal with customer complaints and feedback and now I know to handle those easily. Official working hours were between 8 am to 6 pm with 1 ½ h lunch / nap time. Amazing. We should really insist on having a nap during lunch break. It increases productivity a lot. Who does not wish to take a nap after lunch? In Asia you are forced to nap 🙂
I lived next to the office building but when I learned to ride a scooter I moved to my grandmother in Thi Nghe. It was only a 6 minutes ride according to google maps but don't underestimate Saigon's traffic during rush hours. I drove to work about 7.15 – 7.30 and it took me at least 20 minutes for the small distance of 2.4 km. I split my time between Work, Ba Ngoai (mothers family) and Ba Noi (daddys family) and it was quite a time management to spent at least two nights with Ba Noi who lives close to the airport. She was always mad that I preferred to live with my ba ngoai but Noi oi I still love you. I just  don't love the fact that it takes me at least 45 minutes from office to your place.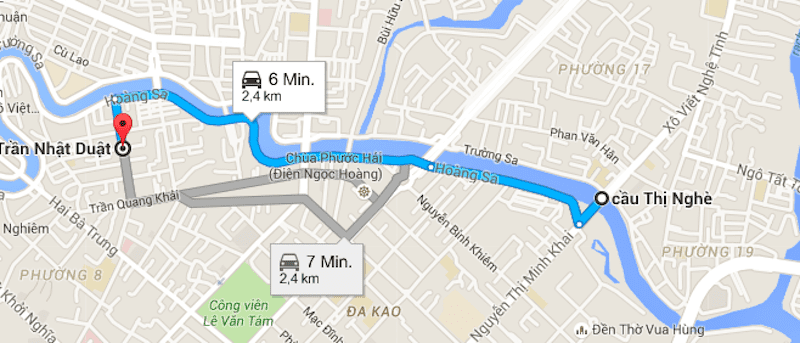 Driving in Saigon is not easy but fun. It took me close to a month to learn how to drive and I really regret not learning earlier. I drove my sisters Vespa in Germany so it should be easy, right? It was not. I was too afraid of the million scooters. I was afraid of being hurt or hurting others. I thought too much. That was my fault. Driving in Asia requires confidence. Just drive and never look back. Look ahead and next to you but never look back. Easy isnt it? Rush Hours on Nguyen Thi Minh Khai is not fun. It is hot and the sun is burning dangerously on my face. To cover myself I adapted the Vietnamese Ninja Style: face mask, cardigan and a wrap up skirt. I look like a Ninja! And that is how I drive too 🙂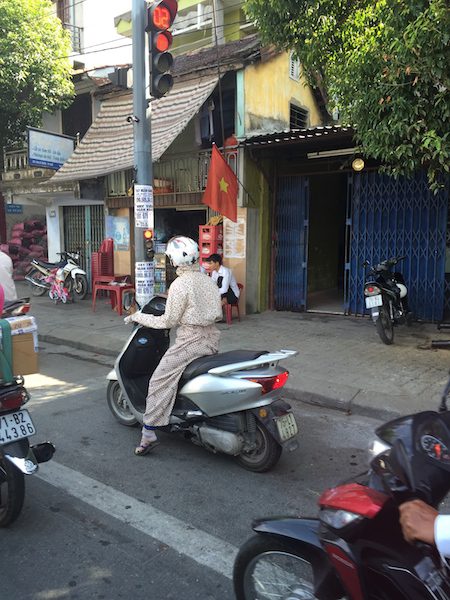 Here in Vietnam we have a unique job: parking lot guard. We have 9 mio people living in Saigon and the same amount of scooters. Scooters are very precious and equals to our cars. They bring you from one place to another place, helps you transporting food, pigs, fridges and window glasses. One scooter can cost up 1000 USD, a Vespa triple amount and that is why many people want to keep their "bike" safe. When I drive to Saigon to meet up with family and friends or go shopping I drive to a secured lot. I park my scooter in a safe place and a guard gives me my ticket. The fee is not high, about 2000 to 5000 Dong. Sometimes I pay 10.000 Dong at fancy places but as a student I could not offer going to the very posh places. Parking a scooter is easy but how to get back the bike? In Vietnam most of men are no gentleman. So if you scooter is parked like in the below picture pray for a charming "anh" or "chu" to help you or be the tough woman who can hold up a 90 km scooter. I remember so many times I was standing there and nobody helped me with my scooter. They said if I can drive a scooter I should also learn how to park or depark it. ( Keep in mind that international driver license are not recognized in Vietnam and you have to pass the Vietnamese Test to obtain the driving license )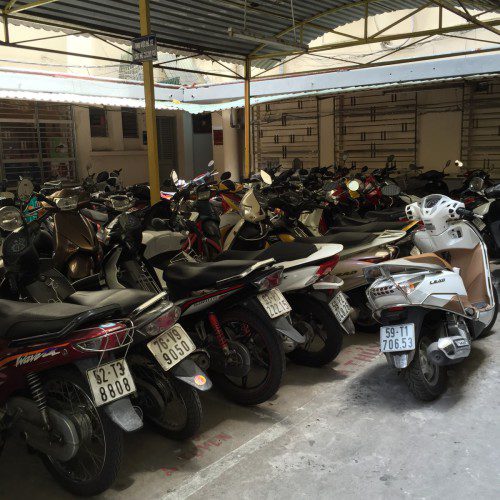 Every company has its own parking lot guard and dogs. We had two dogs and I loved playing with them. Being a dog owner I cant stop passing any dogs. They are so innocent and cute I could cuddle with dogs the whole day.  However dogs in Vietnam are raised to guard, not to play. So sometimes Teo did not want to play with me which makes me sad. In Saigon people have dogs for another two reasons: 1. pets, especially the pocket dogs like Chihuhaha or Yorkshire Terrier and 2. Dog Meat. It is forbidden to eat dogs but there are some place they still do. So one day when my grandparents grumpy dog was kidnapped infront of our house I prayed that people have not eaten him. Who would eat Lucky, this old fat grumpy dog? My cousin went to District 5, close to China Town, to check all shops and he found our dog. He was so old and grumpy nobody wanted to buy him or eat him. Lucky you Lucky. Although you were so grumpy and tried to bite me so many times I am happy that you did not end up in a wok. Sometimes it is better to be ugly.
In Saigon people work to live. They know how to have a great time, eating and drinking. After work we never went home. We went to the next coffee shop or street food stall to eat. It starts with breakfast when we all share our food and continues with our three precious lunch ladies, peeling and cutting fruits for us or bringing in ice cold coffee or smoothies. They even bought me my lunch when I had no time to go outside. This my dear is called perfect work-life-balance. Sometimes we skip nap and when to a coffee shop on the opposite side and relax. Working can be so relaxing.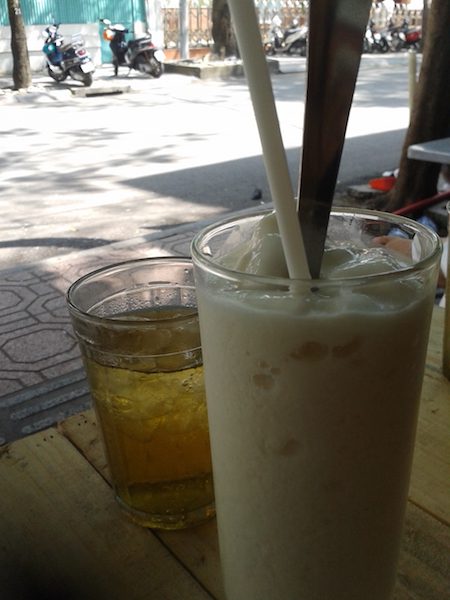 My Life in Saigon has been special and I would like to thank every person I met there for  helping me creating unique memories. I recommend you, the common traveler, to spend more time in this wonderful country. To be non mainstream and make friends with locals. To find a job here and living the Vietnamese Life. I know there are also downsides like health insurance and pension, but we live today, now, here!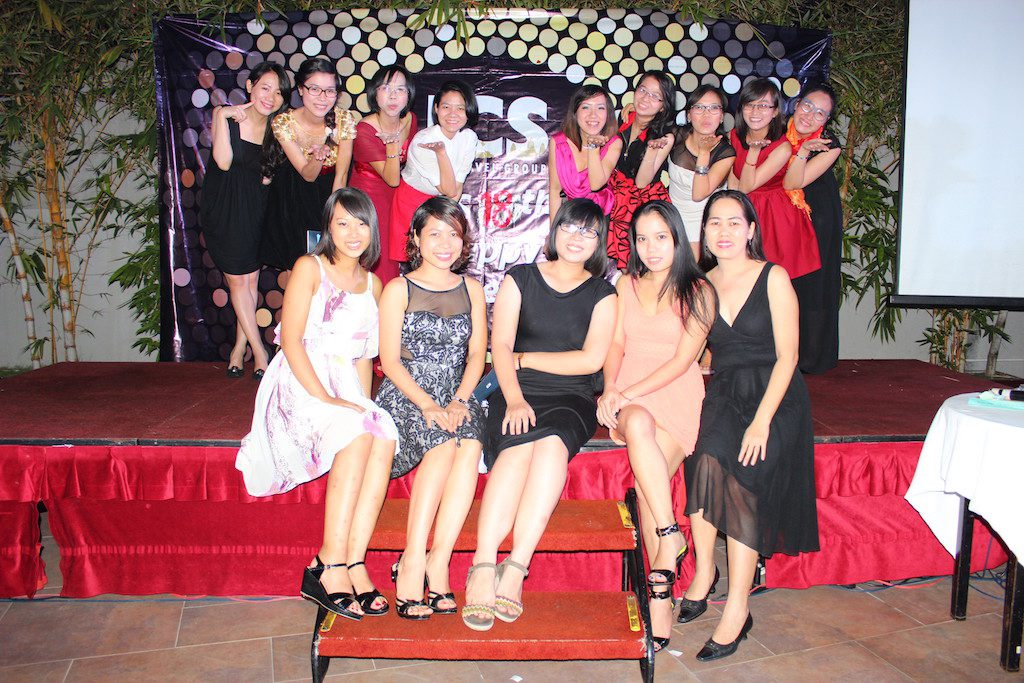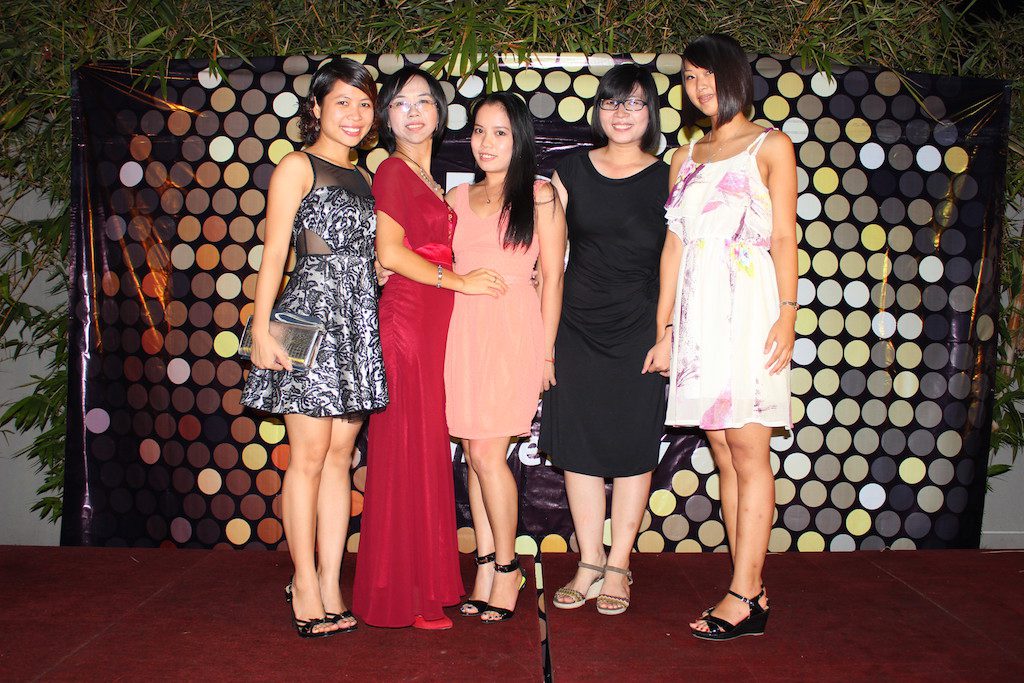 ---
Thinking of moving abroad? Then go through my checklist.
⇒ Get a really good health insurance. I got a food poisoning twice and was so glad that they covered my treatment.
⇒ Get a debit or credit card which no withdrawal charge. I used to use the free giro card of Deutsche Postbank where I can withdraw 10 times for free at Visa + ATMs. Now I use a Golden Mastercard by Advanzia Bank and I am quite happy.
⇒ Save some money for hard times. Asia is cheap so 2000 to 3000 € should help you cover living costs for 6 months.
⇒ Find a job with a decent pay or offering you an apartment. Many travelers go on an au pair or work and travel program. I did an internship which offers me a monthly allowance  and free accommodation. You can find job listings via internship platforms or send them your resumee directly.
⇒ Get Skype or Facetime!
⇒ Buy a return ticket with changeable dates (with fees). It is cheaper than buying single one way tickets. Try to get an airline with a high baggage allowance like Emirates, Thai, Singapore or Qatar Airlines.
⇒ Mingle with the locals and learn how to live and have fun like them. 
⇒ Try the Street Food, especially the weird stuff. I ate everything from frog's legs to field rats and scorpions. What does not hurt you makes you stronger. And Asians eat everything 🙂
⇒ Learn how to ride a scooter because this is necessary. 
⇒ Learn the basics of the country's language because people will treat you better if you try at least. And never ever forget to smile and say thank you.
⇒ Respect the country's culture and religion. Especially in buddhistic countries like Cambodia and Myanmar.
⇒ Join a Teaching English Group to make friends. So you can mingle with locals and expats.
⇒ Last but not least: Be not afraid of the unknown!
---
Want to read more about my Asia travel stories?
Saigon's incredible coffee scene
How I lost my heart to Cambodia
Travel Diary: Panda Flashmob in Bangkok
Travel Diary: Shopping in Seoul
Travel Diary: Myanmar
Need a  boutique hotel in Saigon?
Need an affordable hotel in Central Vietnam?