I'm sitting on the terrace of my beach bungalow in Candidasa and I am on the edge of crying. This morning has been too emotional for me. 
I woke up before dawn (as usual for Indonesia) and our group headed to Mt. Ijen. Close to the next city we changed to super cool Jeep to get on the volcano. It took us about 1 hour to reach Ijen, a volcano on East Java, which is still very active (last time in October and the cause of closing Denpasar Airport). Currently Rinjani on Lombok is going crazy and I wonder whether I will make it back to Munich in time.
"Boss I can't come, the volcano you know!" Extending on Bali is not a bad idea though … It could be worse.
I was not so sad that we cannot climb Mt. Bromo yesterday but this time I was so ready for Mt. Ijen. Unfortunately I forgot to bring my trekking shoes, but my Converse will do too. They did not. Fail. Again. I realised this when I fell twice. As usual.
The way to the crater is divided into three: steep – very stepp – and not so steep. The 3 km up were quite a challenge, especially for someone like me, who does not work out recently. Fully motivated I was one of the first to climb the volcano but realised that I pushed myself to the limit. Taking time might be the best solution this. The path was wide and not so steep but the higher we got, the smaller it became. Half the way up and totally worn out I saw them coming. They came slowly down the volcano.  Small and thin Indonesians carrying heavy rocks of sulfur. Big yellow rocks weighing more than 70 kg. Some of them came down with barrows and some came with baskets. 
I was totally confused about this situation and asked our guide.  He explained that these men go up and down the volcano up to three times. They risk their health and life doing this. Poor workers carry baskets while some of them can afford a barrow which costs about 100.000 Rupiah. (ca. 60 €). 
The further we got the steeper and smaller the paths. How do those men manage not to fall down?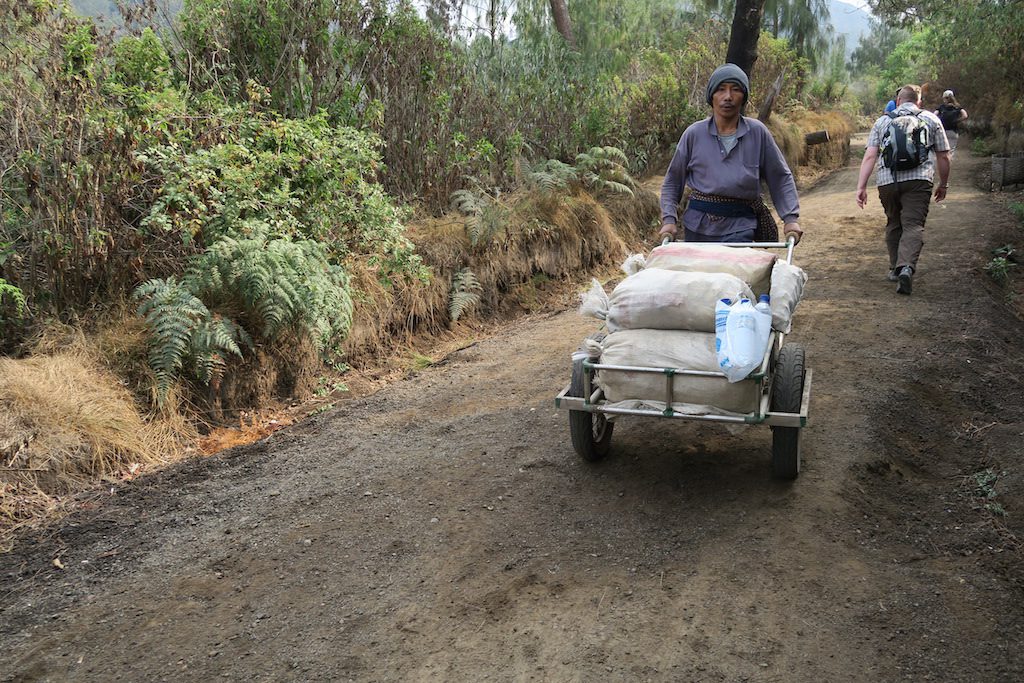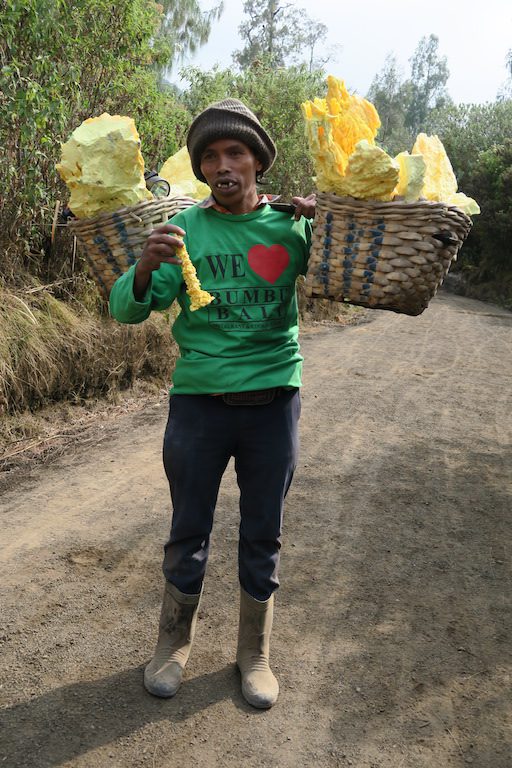 While fighting my way up to the crater (I do not give up easily) people cheering us up. "Only 45 minutes to go! You can make it!" Well well, it is easy to say when you made it to the top.
When I saw a young boy with crutches coming down I know I going to make it. It was the same motivation I had when I saw the old Vietnamese lady driving a scooter in Vietnam. If they can make it I can make it twice!
Never give up Mai! Go Girl! 
One button cramp, two water bottles and 70 minutes later I made it to the top of the volcano. 
The air and smell here are terrible. It's cloudy and I barely see my hand. The closer I got to the stinky crater the more sulfur miner came. I try to smile and say "Selamat Pagi" and they smile and reply with "Selamat Pagi".  Their bodies are thin and their muscles have hardened over the time. The shoulders have thickened due to the weight of the rocks. Those men are not taller than I am and tanned from the sun. They are 25 to 45 years old and have carried the sulfur all their life. Day for Day. Year for Year. 
They know  they risk their life but what chance do they have? They never went to school, never enjoyed a good education. Who is going to employ them? Who is going to pay for the food and bills? Who is going to feed their family and send their children to school? 
Seeing this hard life I question myself the purpose of life. I took everything I have for granted. Loving family, good education and a great job. I am so grateful for the things I have here in Germany.
I try to fight the tears but I cannot. 
While traveling the world I have met a lot of tourists who do not want to see the real world. They stay at the best hotels, eat the most delicious food and spend a lot of money on shopping. They close their eyes and shut out the poverty. They have money and do not even donate 1 €. Even if I don't earn as much as those tourists I show my respect to the hard working sulfur miners. I try to help them by buying small sulfur rocks which is not a lot of money for me. It might be only 2 or 3 € for me, but it is a lot of money for them.