A new year comes  with a new chapter!
My first trip this year is going to be Bangkok and will lead me to two other countries which you will later know if you keep on reading. Usually I travel later in spring as our business trips don't start before March or April but this time I am bound to the Eastern Holidays as my sister travels along.
Last Sunday we flew from Frankfurt via Beijing to Bangkok to spend 4 days there. The Air China flight was ok but the transit in Beijing only hell. We had about 2:40 h to transit but needed about 2 h only for immigration. Hmmm what will happen on our flight back from Hong Kong where we have only 1:40 h? Maybe we should hurry and push all others to get the flight. We all know that China is a huge country with lots of people but at 6:30 am there was only one transit counter open and too many people to go through security. In the end we made it and there was enough time to drink my first Matcha Frappee. Thanks Starbucks!
After 17 hours we arrived in Bangkok where our driver was already waiting. He brought us to AMARA BANGKOK , where we spent three nights. The new hotel is in Silom very close to Patpong Nightmarket and quite good for the price. I would declare this one as a German 3.5* hotel with a very nice rooftop pool. We were upgraded to  a Club Room which granted us benefits to Lounge on 20th floor, unlimited minibar and a nice city view on level 24. As a sales manager / travel blogger it is nice to be upgraded 🙂
The Club Room is the same size as the Deluxe Room (about 25 sqm) and has a separated bathroom with rain shower. There is a window looking to the bedroom but separated by a white curtain.
Do you need a Club Room? Most of the times we do not need a Club Room unless the benefits are very very good. Indeed, a nicer lounge on a higher floor and a very large breakfast would be worth the upgrade but imo the breakfast in basement was much better than the one we had at the lounge. I missed the very nice soup we had before.
All in all the new Amara is a good choice for you if you wanna stay close to the nightlife in Silom and walk to Patpong Market. It is about 7 minutes walk from BTS Sala Daeng and Metro Sam Yat and there are a lot of good restaurants. I would highly recommend the Ruen Urai, which is only 5 minutes away serving real good Thai Food for a reasonable price.
The only downsize of Amara Bangkok is the lack of the sunloungers at the very nice pool on 25th floor. If you do not arrive early all of the about 8 will be taken.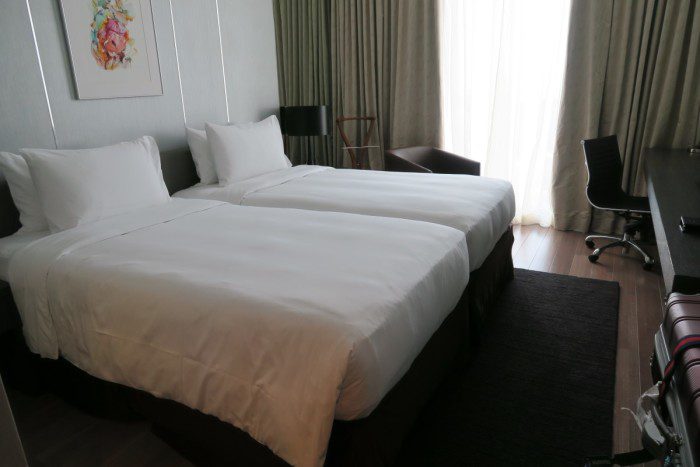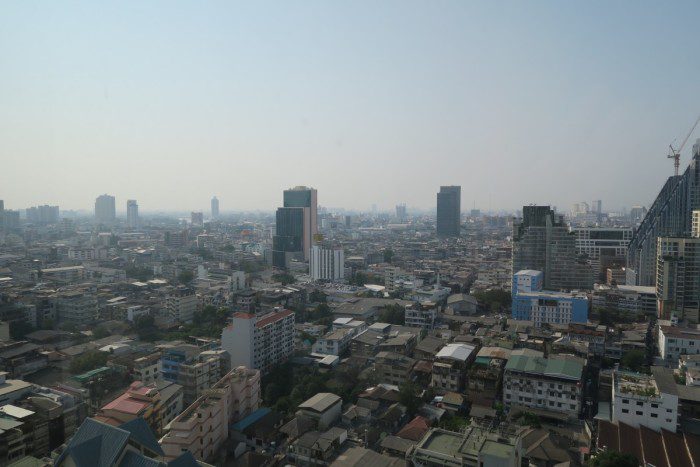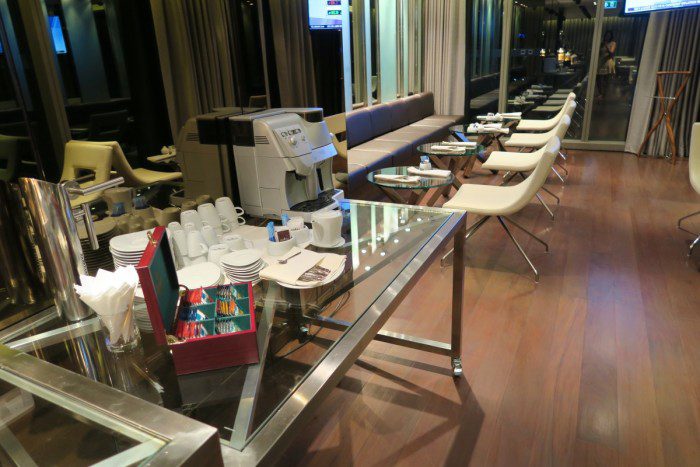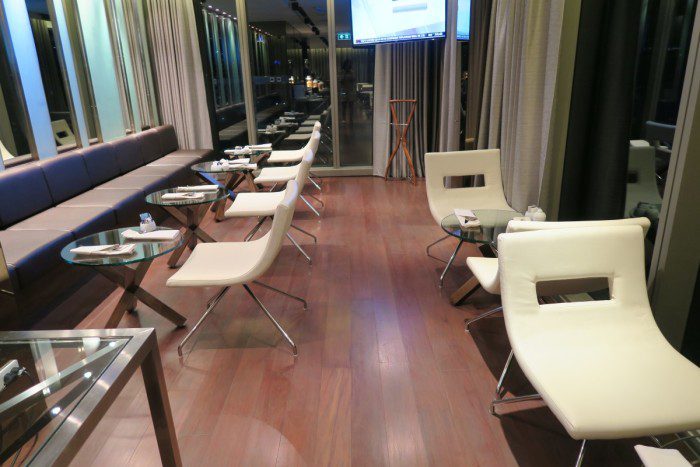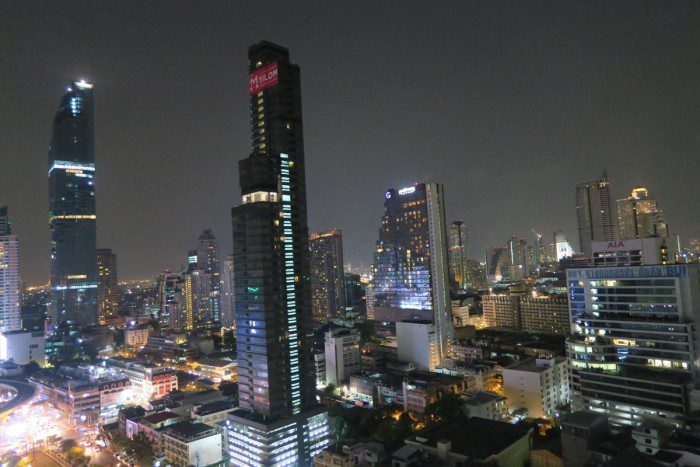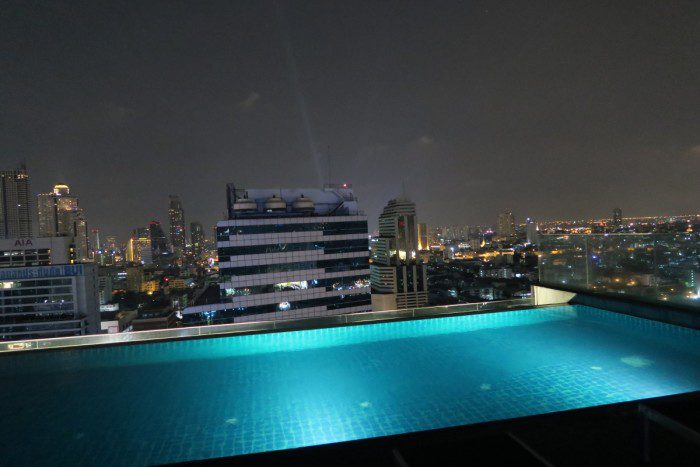 Unseen Bangkok
Bangkok is one of my favourite cities in Asia and I know this city quite well. Since this was my third trip to Krung Thep I wanted to show my sister more than the Royal Palace und Wat Pho. I asked our Partner to send me on a new trip which is Bangkok Unseen, an off the beaten track tour which usually starts around 11 am and ends in the later afternoon in Khao San Road. Today we would visit: Jim Thompsopns House (What happened to him? Was he murdered?), an adventurous express boat on the klongs, Wat Saket and the Golden Mount and Loha Prasat as well as Thewet Market (Flower Market). Since my favourite temple Wat Arun is still renovated it was not worth it to visit.
We started with a walk to Sala Daeng and took the BTS to National Stadium. From there we walked to a small soi where Jim Thompsons House was located. Khun Ekka, our Germanspeaking Guide whom we called "Grandpa" (He's very lovely and tall for an Asian!) bought the tickets and we joined an Englishspeaking Tour since there were no German Tours yet. The tour takes about 45 minutes and shows us all building. Unfortunately we were not allowed to take pictures inside the house 🙁 However I enjoyed the visit a lot (old building, older statues and very nice furnitures) and can only recommend spending a few hours at Jim Thompsons House.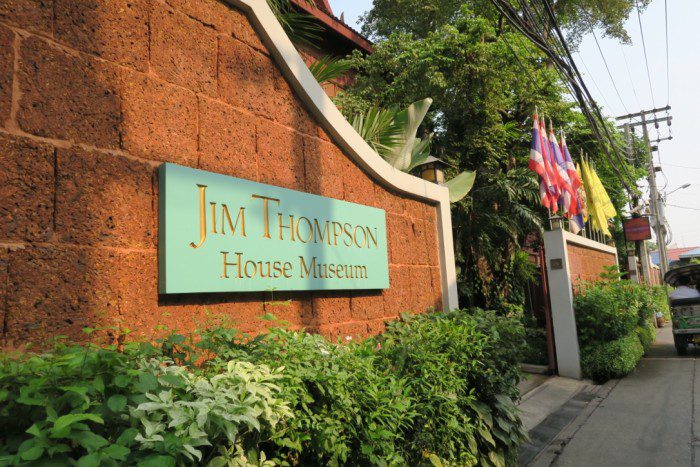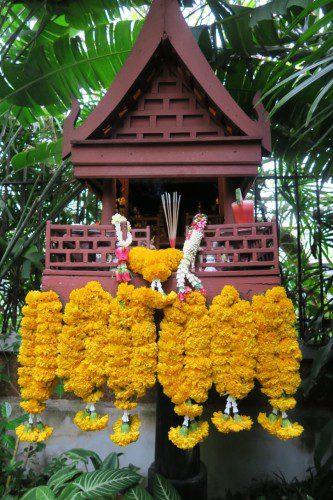 Afterwards we took the very fast express boat to the end station close to Wat Saket. The ride takes about 20 Minutes and passed by simple houses and markets. It was nice to be so off the beaten track. Having arrived at the final terminal we walked about 7 minutes to Golden Mount, a hill monastery build by the king. The 344 steps up are not easy but the view is unique. We had a lot of fun taking pictures and making fun of the "old" vultures statues. Khun Ekka said that there is a saying, that ugly women are compared to the ugly vultures at Golden Mount thus we were counting all the statues all the way up.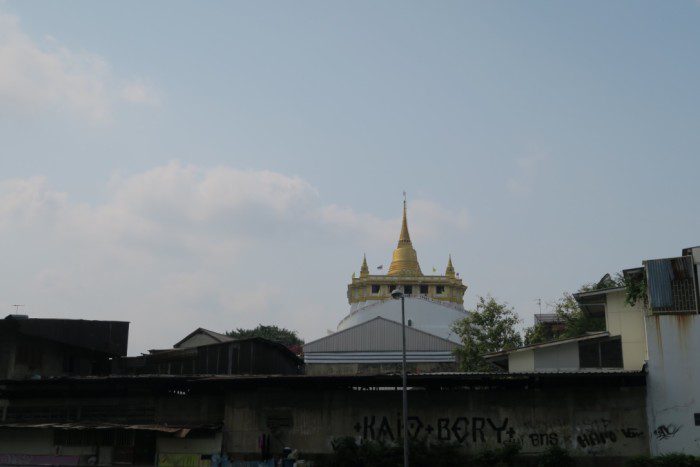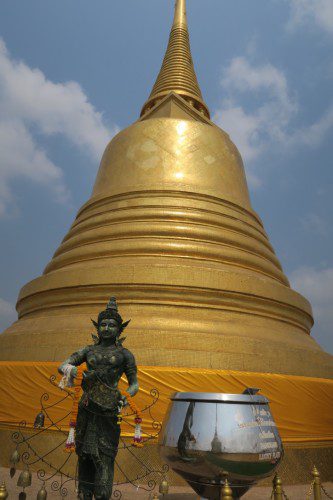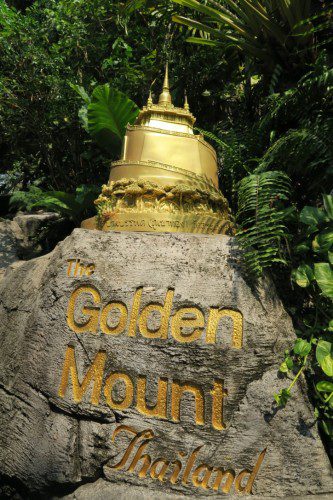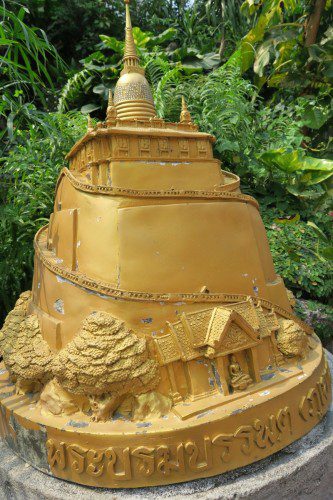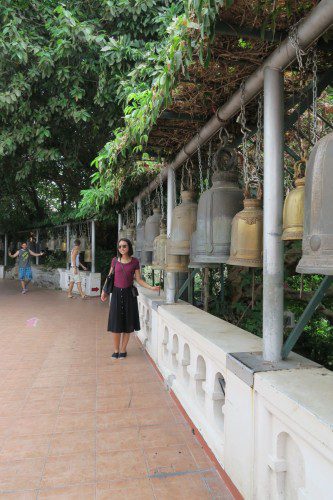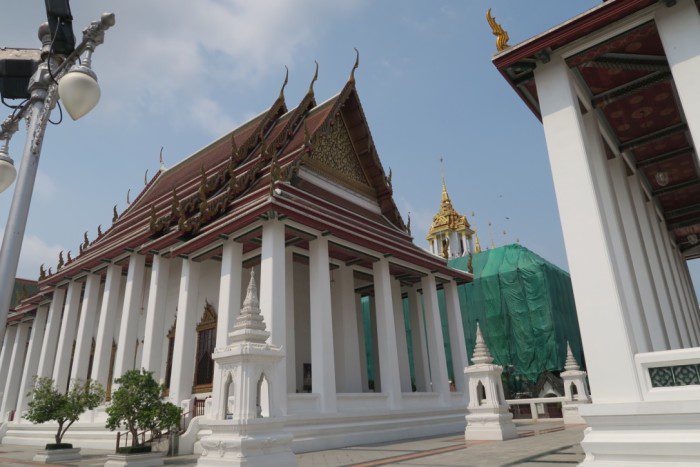 We ended the tour with a tuk tuk ride to Thewet Market close to Chao Praya River. Everywhere were such beautiful flower arrangements: orchids, roses, jasmine flowers, Wow the smell was awesome. We also visited a local vegetable market which was nice. As we were tired we finished the tour earlier than expected… It was too hot to walk outside.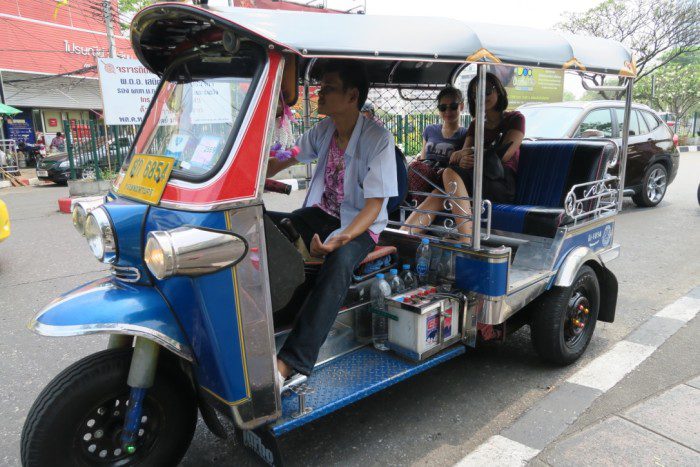 Oh Bangkok I adore you! Love to come back soon!!!