The last few days have been tough but awesome. Waking up early is not my cup of tea and I miss sleeping until 9 am. However I think I am getting use to this now. From Heho near Inle Lake we drove to Pindaya, a town famous for its 1000 buddhas cave and Shan-Paper-Umbrellas. The Pindaya Cave is quite huge and a maze full of buddhas. There were some parts where I nearly couldnt fit in but this might the aftermath of eating so much fast food … Luckily Christmas is coming up and I dont really need to work out. On the way to Inle Lake we also visited one family producing Umbrellas and wow they are so pretty. It was quite interesting to see how they turn paper and blossoms into wonderful umbrellas. Afterwards we arrived in Kalaw in the mountains where the British People use to go to escape the heat of the cities. Kalaw is quite nice and relaxing. We stayed at Dream Mountain for the night and it was finally Spa-Time. However I learned that I cannot handle Traditional Myanmar Massage because they were way too strong for me and I was not relaxed after all. Maybe I should stop longing for Thai Massages and opt for Bodytherapy Massages now …


After visiting the elephant camp we drove to the outskirts of Kalaw until the roads started to get narrow and we could not drive anymore. It was time for the toughest part of our itinerary (which was funnily my idea) : Overnight at a monastery. I know that one part of the itinerary is trekking to the monastery because it is located out of the town upon the hills. However I thought we would only trek for like 20 Minutes but reality was 45 Minutes – in flip flops. Now you can imagine me making those faces.  The stay at the monastery was very simple but nice. We slept on thin mattresses in a separate building which was donated by a Swiss Traveler. According to the head monk this man spent two times at the monastery and liked it so much that he donated a huge amount to the monastery. Since all donations are written down on a huge chalkboard maybe you will see my name there too? The monastery was very small with only 5 monks and lots of kittens. I spent the day reading a novel, talking to the guide and my colleague or playing with the cats. There was no wifi so no distraction at all.
The drive from Kalaw to Nyaung Shwe was wonderful since we passed so many mountains and fields. I understand why nature lover and trekking fans come to Kalaw. When we arrived in Inle Lake we changed the cars with a boat because well it is a giant lake. We stayed at Pristine Lotus Resort and Spa, a very charming boutique resort close to the lake and enjoyed our stay much. Well besides the terrible wifi connection which did not work at all. The Floating Duplex shaped like boats are really nice but I just let you know that the duplex are more couple-friendly. Family and Friends should stay at the Lotus Villas because only a curtain separates the loo from the bed room. Traveling quite often and knowing my colleague for a long time this was not a problem for me. I had the same "problem" when I checked in at Hotel des Arts this year. What is happening with all those "open" /"curtain only" bathrooms? There should be more privacy in hotels!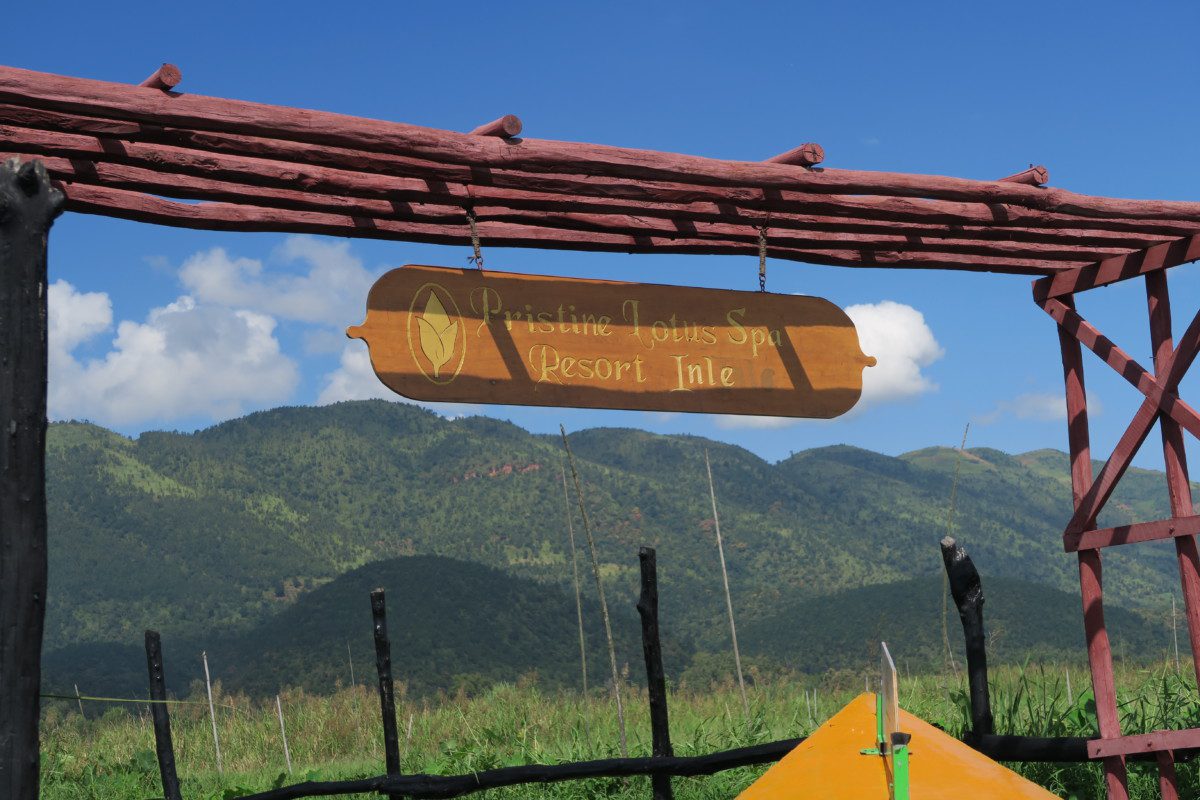 On the next day we had to wake up early (again) since we wanted to join the Hpaung Daw U Pagoda Festival, which takes place every year during the month Thadingyut (September to October). 5 Buddha Statues are placed on a replica of the royal barge and carried to every villages on the lake. If you are traveling during Thadingyut make sure to join the festival since it is a nice experience, being between all the locals, waiting for the barge to come. Furthermore you should visit Indein as well. Indein is famous for its stupas and quite nice. I also made friends with super cute puppies (ok now my friends will tell you that I befriend every dog since I am such a dog lover. And they really mean every dog!) but geez they were so super cute. Makes me missing my one and only Lucky which sadly passed away earlier this year.
I am totally in love with Inle Lake and do not recommend leaving this out. Better plan two or three nights at the lake because honestly you need some days relaxing after Mandalay and Bagan. If possible visit Kalaw as well because the landscape is outstanding. I wish I could have spent more time at the lake eating Shan Noodles, cuddling with the puppies and enjoying the wonderful hot springs. Well it cannot be helped, I have to come back one day.