Hello World!
It's been a while, sorry , but I was too busy with work, christmas and new year's eve.
Today is the last day of 2016 so let's finish this fantastic year with a final *kawoom*. Let's have a look at my travel agenda: Thailand, Vietnam and Hong Kong in March, Italy for my birthday in June, Spain with my loves in August and now my absolute highlights: Myanmar in October and South Korea in November. That makes 7 countries in a year … Maybe I can make it to ten next year?
How will you celebrate the last day of 2016? Cosy with your love ones or like me at a house party with friends? Don't call me or message me tomorrow. I gonna be in La La Land until Afternoon. Maybe for a hangover soup at Takumi?
In October I travelled to wonderful Myanmar (you should definitely go there soon. It's a magical place) and right after return I went to work just to fly to South Korea 5 days later.
My week in a few words: Arrive in Munich – Do Laundry – Go to work next morning – Die inside – Eat – Die more – Get some sleep – Rush to the Airport to fly to Seoul
On Sunday Morning I arrived in Seoul and took the express bus to the city (16.000 Won per person = about 15 €). Patricia, my partner in crime, checked my into the amazing Four Seasons Seoul and we went off to grab some juicy chicken (reminds me of my friends in London: It is time for winner winner chicken dinner!). The chicken dishes in South Korea are phenomenal, so juicy and delicious. I seriously love chicken 🙂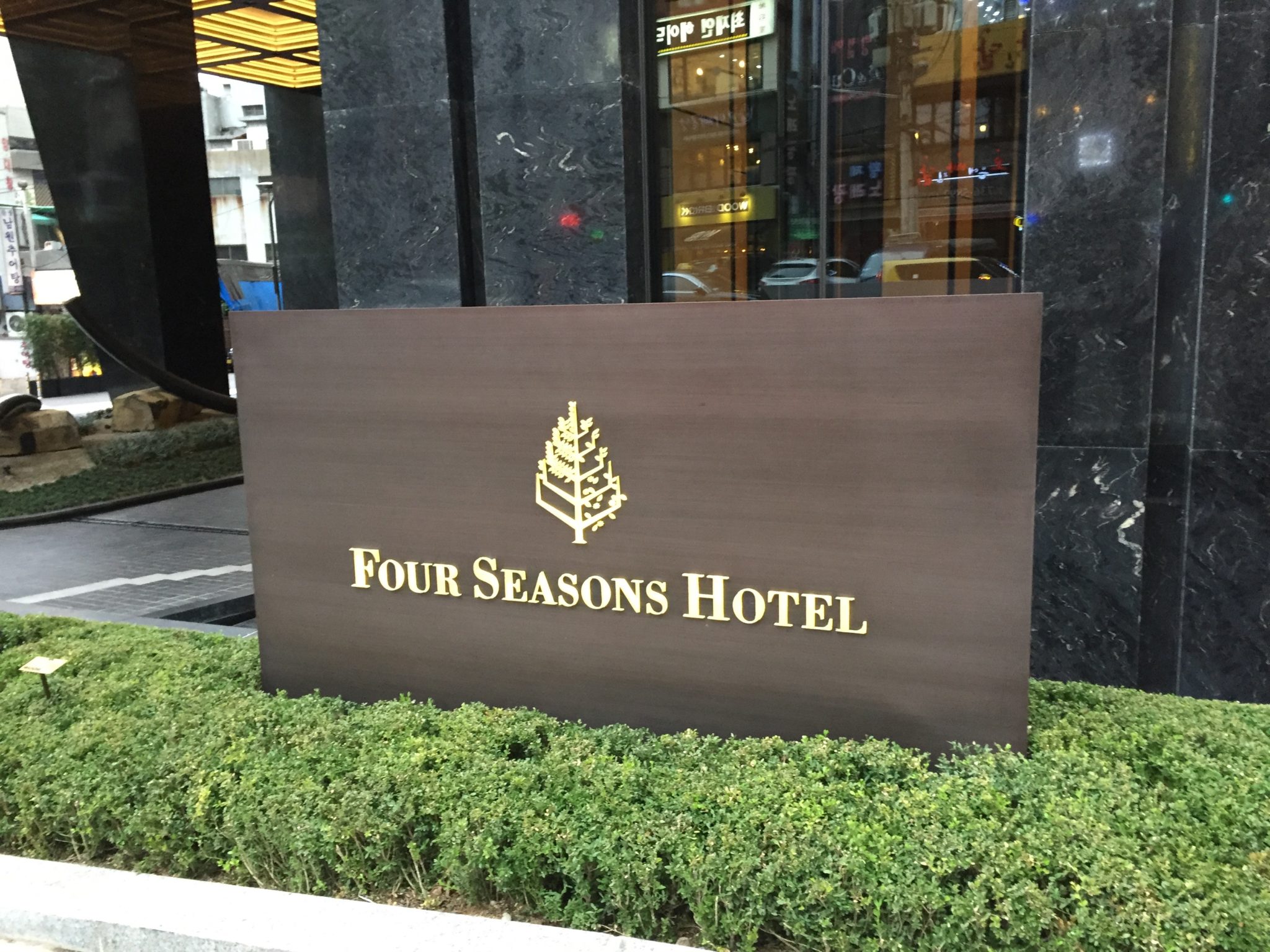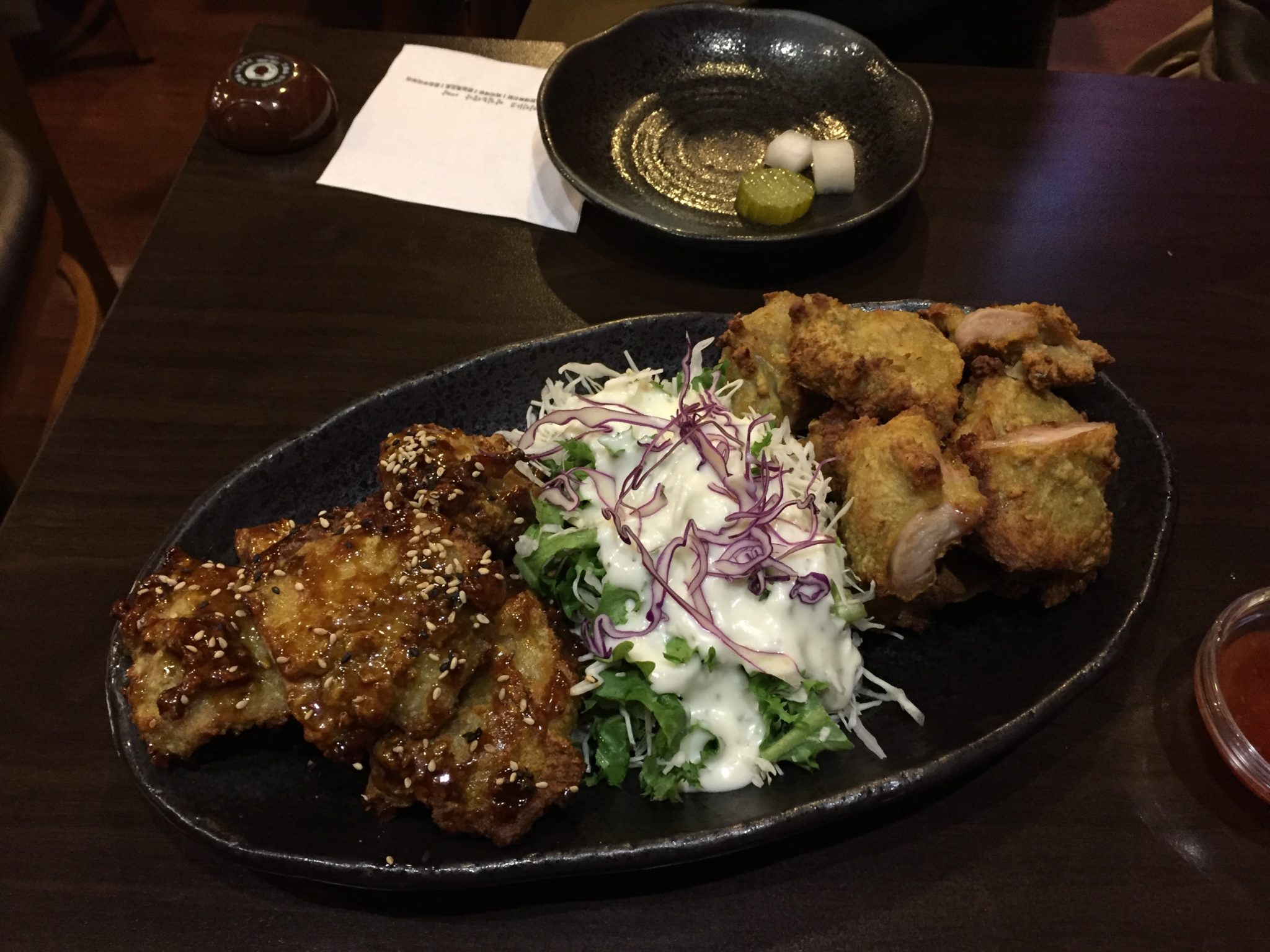 So what do I love more than Chicken? Sweets!!!
Pat took me to one of her favorite areas which is known as Myeong-Dong. There you can find anything you want: Make Up Shops, more Make Up Stores, Hello Kitty Café, Cat Café and in the evening any kind of street food.  This was paradise for me. Everywhere delicious food and face mask shops. If you are into the Hallyu Wave like I was 10 years ago you will know this. Don't know Hallyu? Hallyu Wave is the trend of liking everything from South Korea like Korean Dramas, Korean Boy-and Girlbands and ( especially for me ) Korean Make Up Brands. I used to be a big fan of Hallyu but the older I got the less I have time for watching Korean Dramas. If you still never watched any try one of my favorite ones: Secret Garden, You are Beautiful (Romcoms) and EYE CANDY Lee Min Ho in City Hunter (Action and Hot Men!).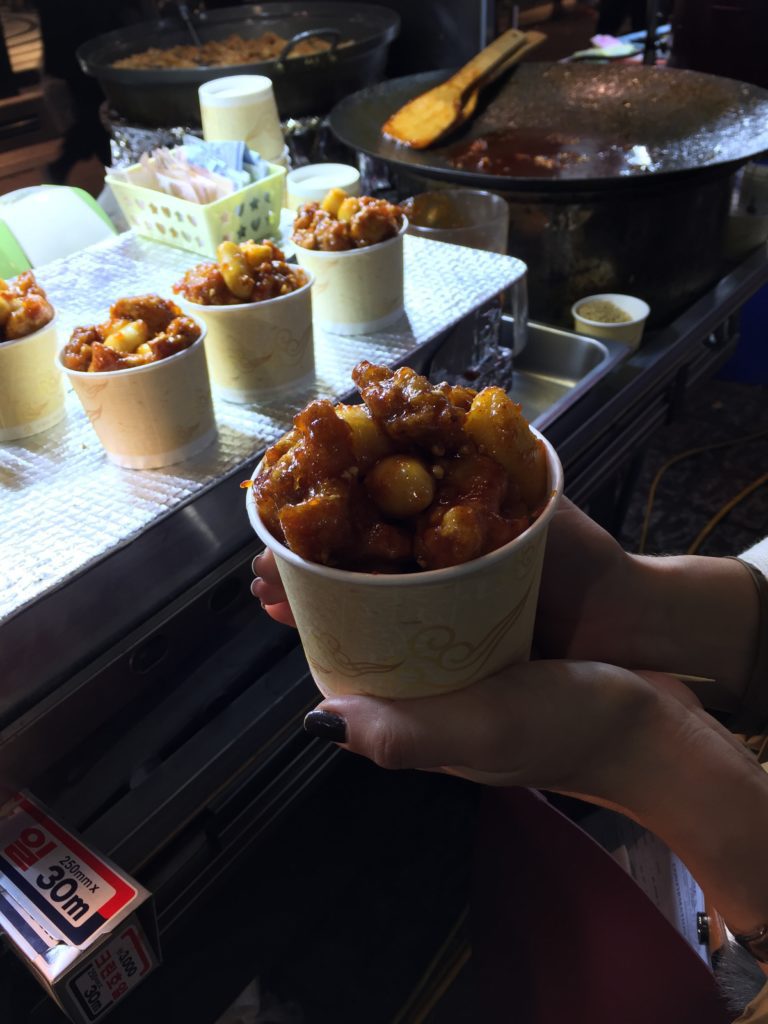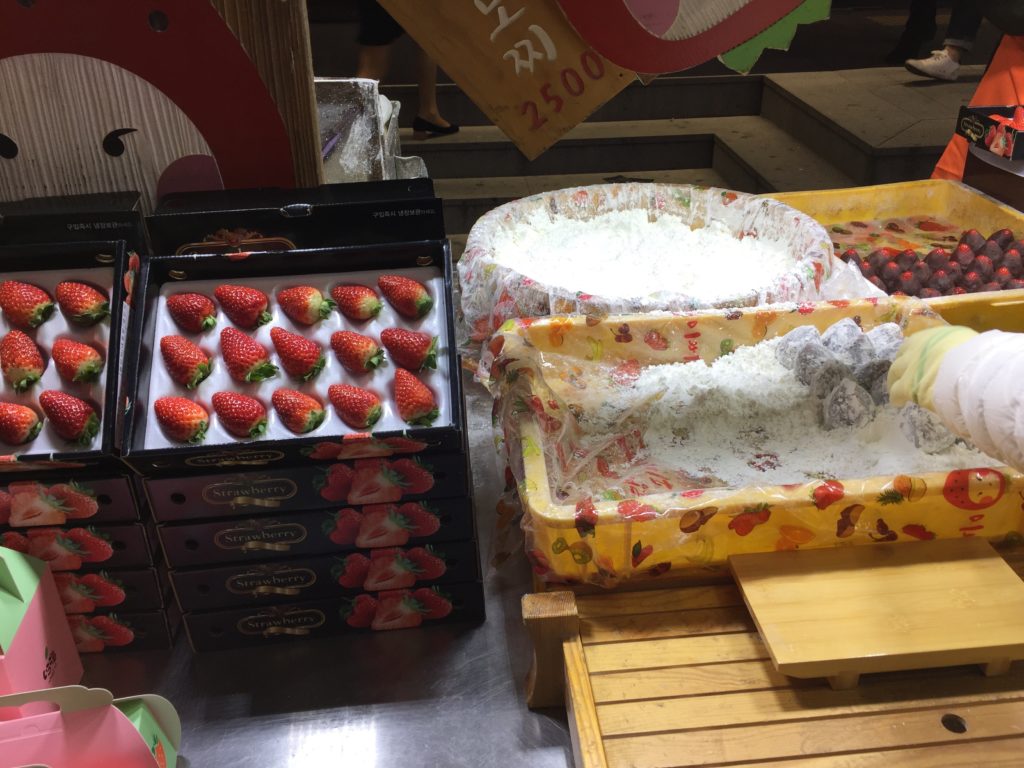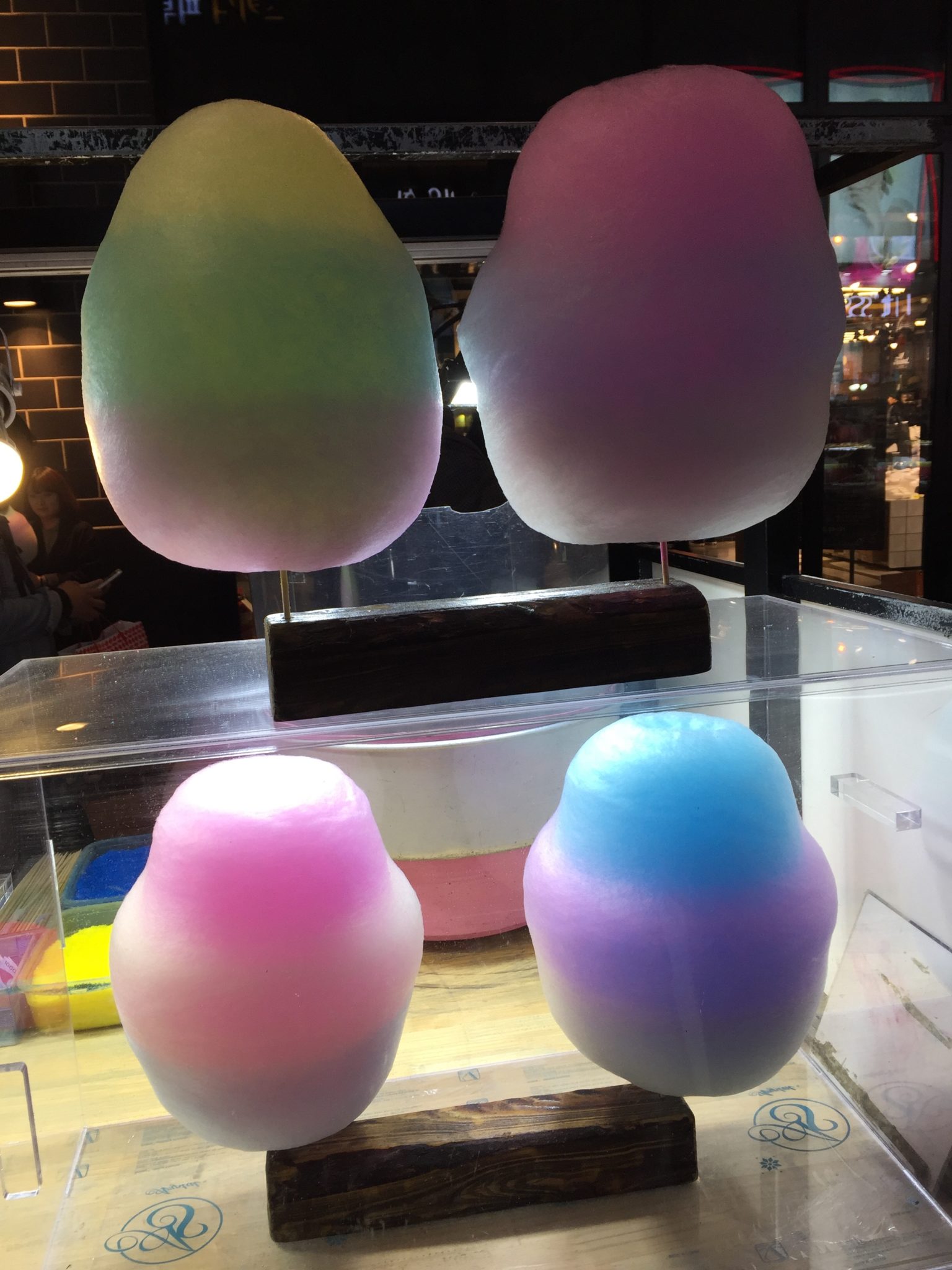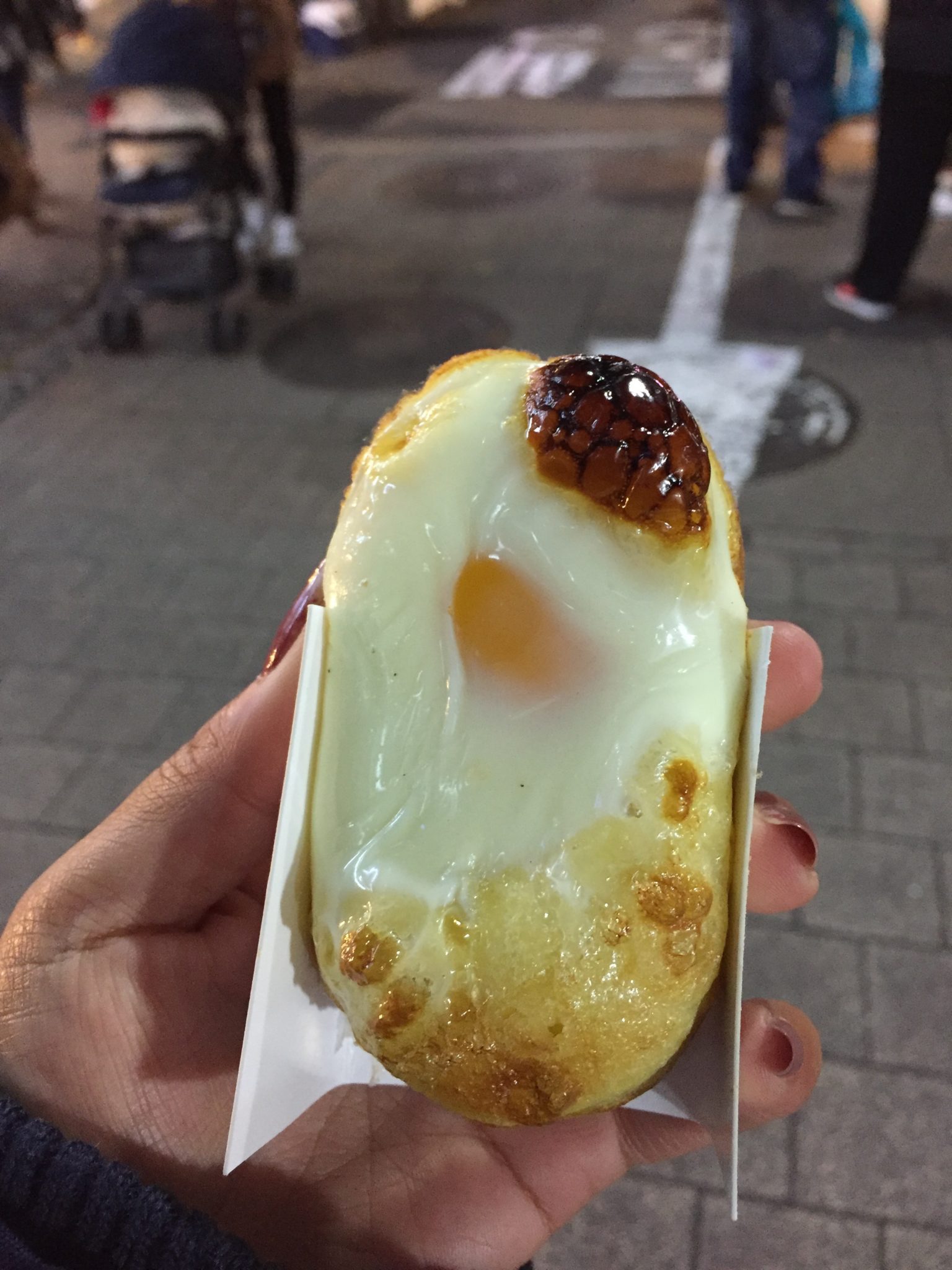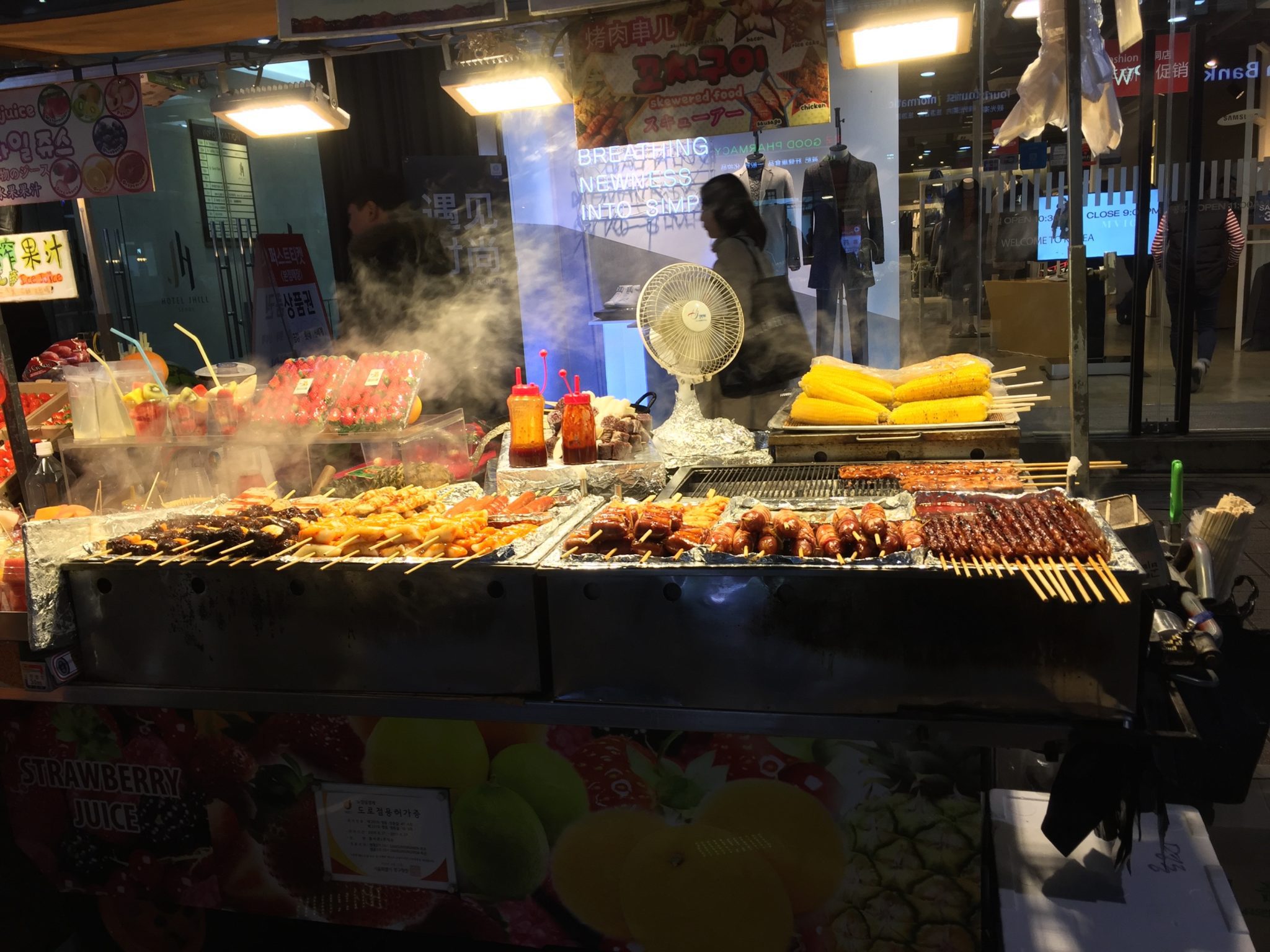 Finally a Korean Brand shop opened in Munich (on Leopoldstreet) and it is amazing. I got there on the second day and they showered me with freebies e.g. face masks and make up. I do not use make up frequently because I am a lazy person and prefer sleeping longer. Furthermore I love my good skin and do not want to cake it. However Mama taught us that if we ever want to cake we should use high end products like Chanel, Dior, Benefit and Clinique. So when Missha opened I was so happy because Korean Make Up is one of the best products now and affordable. Have you heard of BB Cream? Yes, it's a Korean Product! Ok back to basic I went crazy in Seoul. Streets full of Korean Brands and Cell Sheet Face Mask (I swear on this mask, they are so good) were on sale. Buy 10 and get 10 for free! I got home with 50 face masks.
While in Myeong-Dong visit the Hello Kitty Café as well as the Cat Café next door. I am not a cat person but they are so adorable. Why is everything here soooo cute?
The Hello Kitty Café was pretty cute and the beverages and sweets were alright. A bit expensive but I am in Seoul and that's the price tag. I dont have the tag with me but I spent about 5-6 € for the Green Tea Latte. The Cat Cafe was more expensive. Entry Fee (9000 KW) comes with a free beverage. I opted for the Lemon Tea which was nice but so small. Paying close to 10 € just to cuddle with cats? I don't know. I can go home and cuddle with my dog for free.
 Hello Kitty Myeongdong
28 Myeongdong 4-gil, Myeongdong 2(i)-ga, Jung-gu, Seoul, South Korea
Opening Hours: 10:00 am–10:00pm
 Cat Playground Myeongdong
Jung-gu, Chungmuro 2(i)-ga, Seoul, South Korea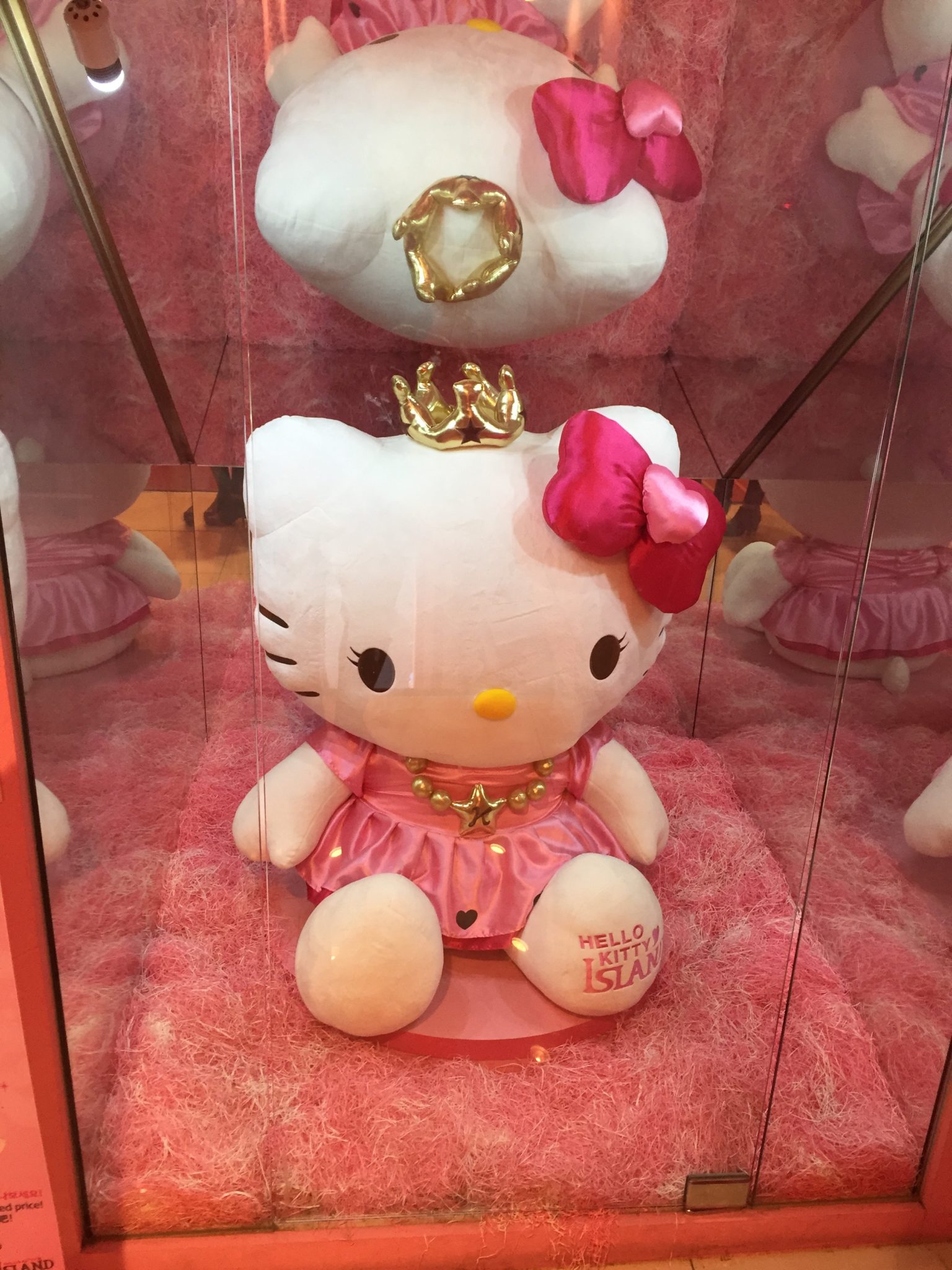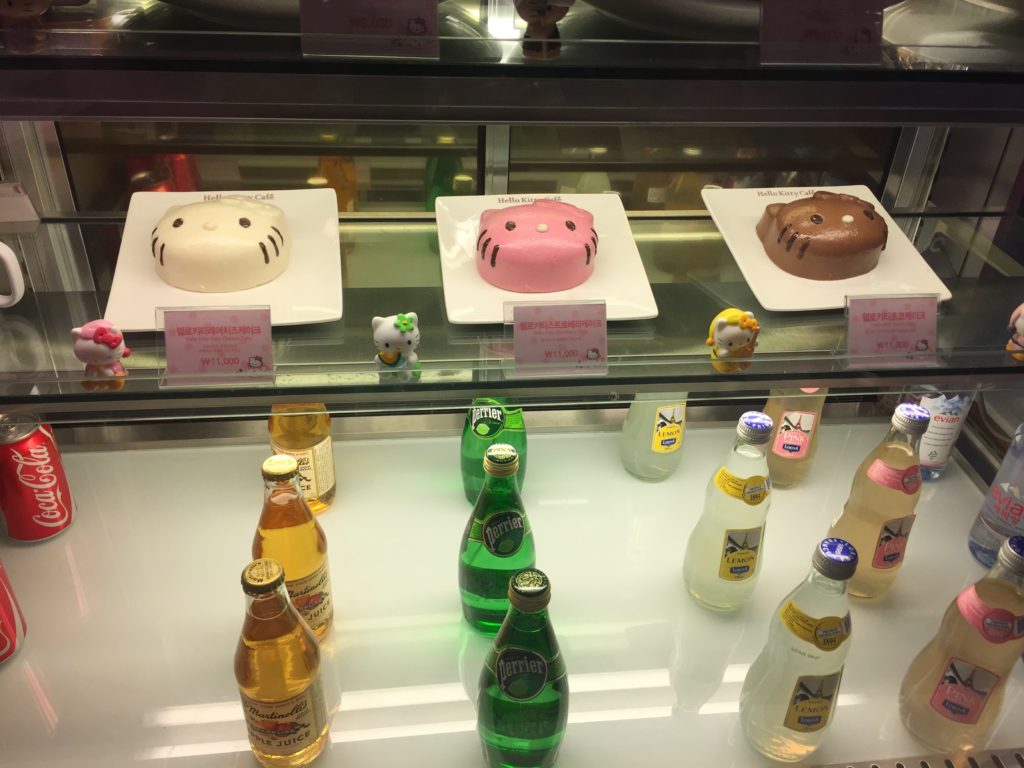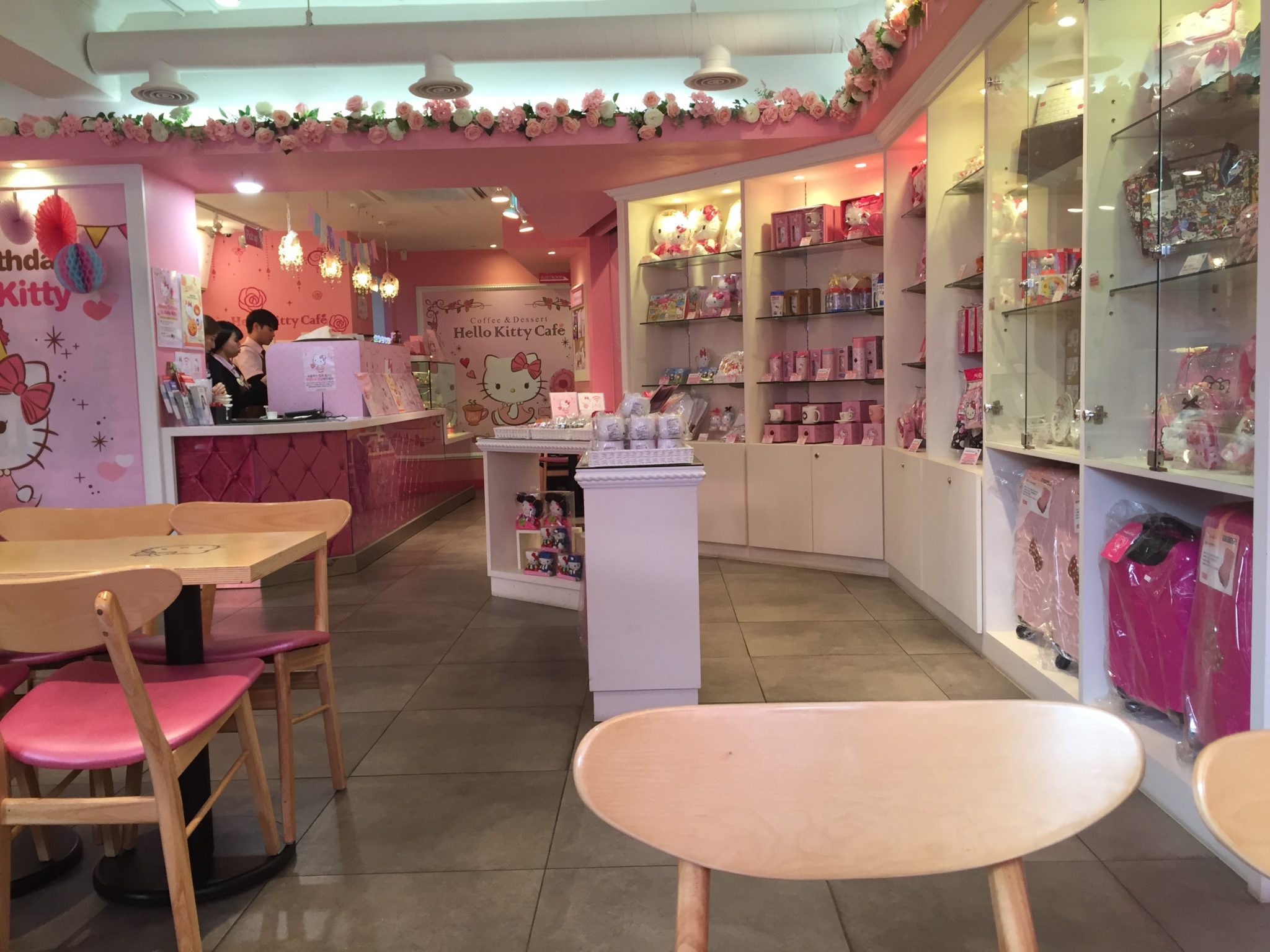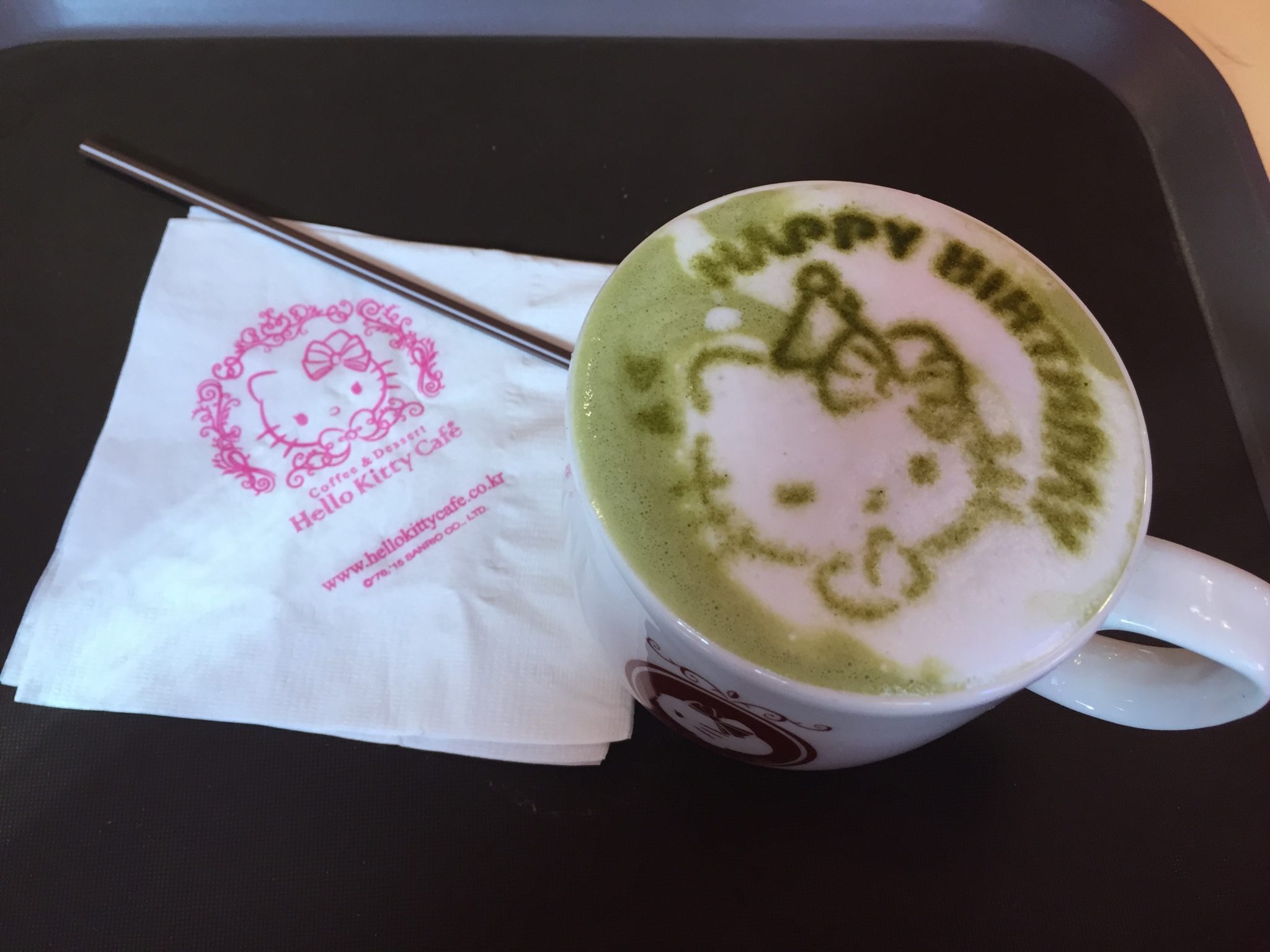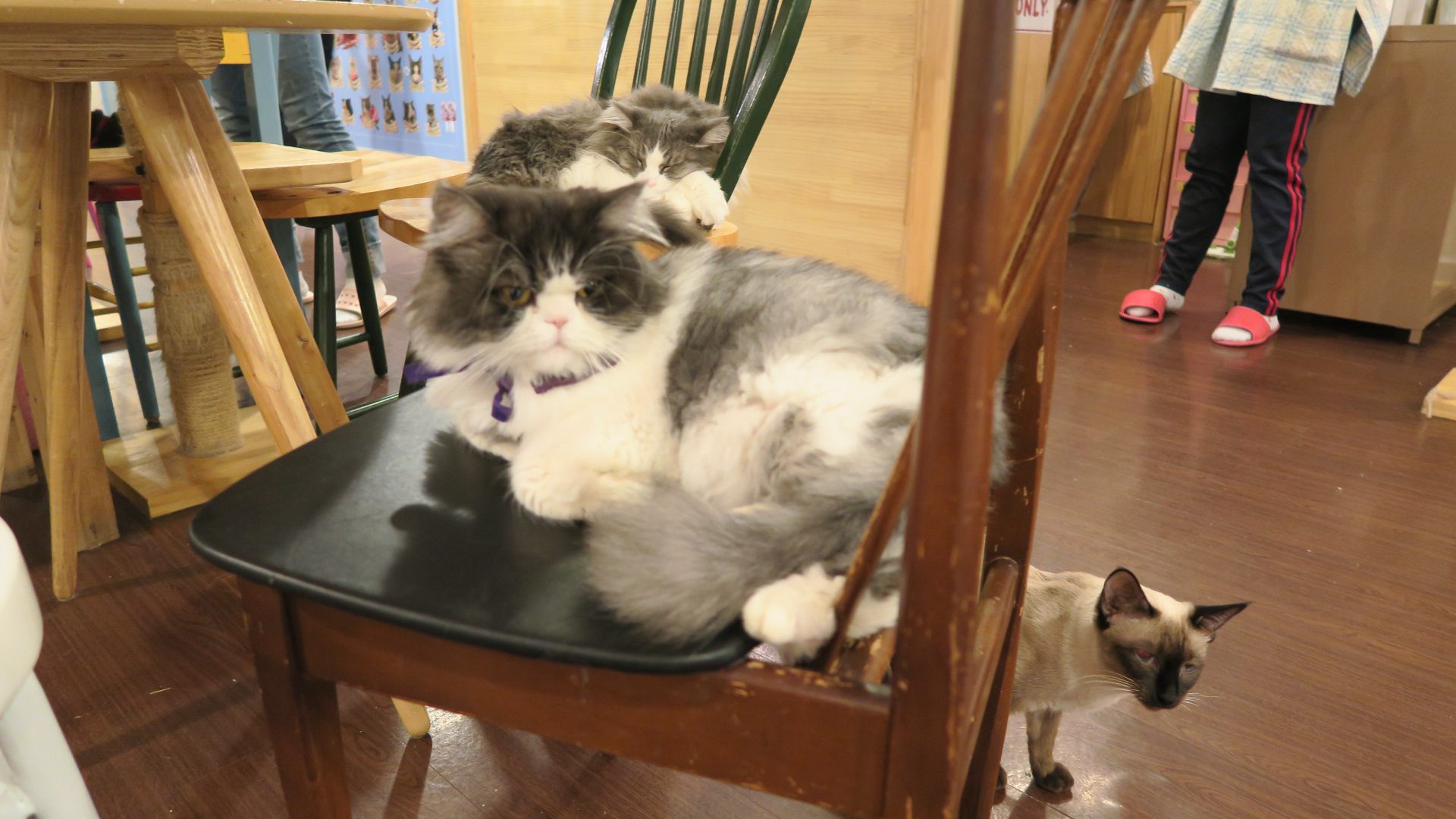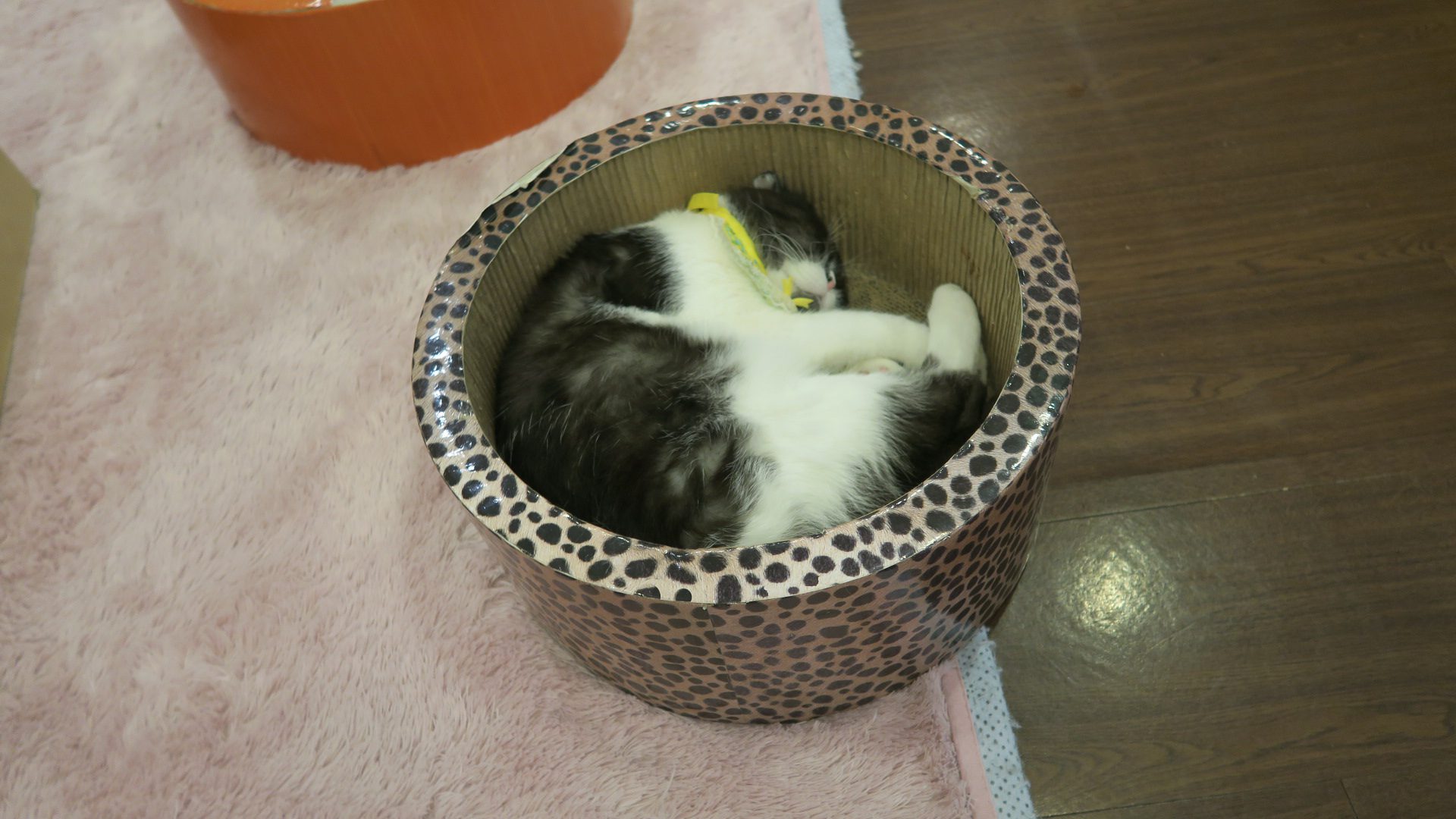 One of the places you should visit is one of the 5 palaces. We decided to visit Changdeokgung Palace in a very traditional way and it was fun (but so freaking cold). You can rent traditional "Hanbok" close to Bukchon Village and it is not expensive. We went to Hanboknam and I think the rate for 25.000 – 40.000 KW for the whole day, depending on the style. A Hanbok consists of two parts – jeogori, a light blouse and chima, a wrap around skirt which is wrapped around the shoulders and bust. In full rig we stepped into the bus which was totally complicated because the skirts are so large and fluffy. When we stepped out of the coach every Korean was looking at us. Giant Caucasians wearing the cute little dresses. It was a lot of fun 🙂